Land Tours

Are you looking for a vacation to enjoy the best of a special region in depth

Then look no further.

Our Land Tours are just what you are looking for. They feature an in depth exploration of a fabulous region or country.

Regional highlights trips go to such favorites as

Galapagos Islands Exploration Week

Highlights of Tuscany Italy featuring Florence, Pisa, Cinque Terre and much more

Highlights of the French Riviera featuring Nice, Cannes, Monte Carlo, the hillside village of Eze and much more

Highlights of the Amalfi Coast of Italy featuring the charming coastal villages, the island of Capri, the ruins of Pompeii and much more.

The Running of the Bulls in Pamplona Spain

These trips enable you the convenience to unpack just once and enjoy included group day tours to some of the most gorgeous sites and historical areas and then enjoy dining on the local cuisines at local restaurants that you can choose on your own or which may be arranged by our tour escort for our group to enjoy together.

Country highlight trips feature such favorites as

Costa Rica Beach and Adventure Week featuring natural hot springs, volcanoes, zip-lining, kayaking, waterfalls and more.

South African Safari and Wineries tour

We also offer an annual all inclusive beach week. Each year we pick one destination such as Jamaica, Cabo San Lucas, or other exotic destination in the Caribbean where we spend a week at an all-inclusive resort where all meals, all drinks and all shows are included and we take day trips to enjoy the sites and activities of the region.

The trip sizes are limited with the average trip size being 10 to 20 people so you get more personalized attention from our trip escort and feel the best camaraderie with the others on the trip.

So the next time you want to explore an exotic region or country, remember the one name that does small group destination tours the best www.singlescruisesandtours.com

Land Tours

WALKING TOUR OF THE CINQUE TERRe AND PORTOFINO REGION OF ITALY
Sat. May 20-Sat. may 27, 2023

With included one night pre tour stay in Pisa, Italy
THIS TRIP IS LIMITED TO ONLY 14 PASSENGERS SO MAKE YOUR RESERVATION EARLY



VIEW OF THE COASTLINE OF THE STUNNING CINQUE TERRE REGION OF ITALY
Join us for an incredible week of exploring the incomparable scenic beauty of the Cinque Terre and Portofino regions of Italy.

On the beautiful Italian Riviera, five villages cling alongside stunning seaside cliffs. Known as Cinque Terre (Italian for Five Villages), they are fairy tale like visions of pastel hued homes, immaculate little churches, beaches dotted with colorful umbrellas and stunning scenery everywhere you look.

These villages are linked by ferries and trains but the best way to see these quaint seaside villages and dramatic scenery is by a network of footpaths that offer spectacular views of the Ligurian Sea, the wildflowers, olive groves and the spectacular cliffs surrounding it.


The best way to experience the breathtaking beauty of this region is by foot and our tour will feature professionally guided walks to truly experience the sights, sounds, tastes and aromas of this unparalleled region. Our walks are all at low altitudes, just a few hundred feet above sea level with very little ascent, so anyone in reasonable fitness can enjoy each day's walk. These professionally guided walks are each between 5 and 8 miles and all feature incredible views and plenty of stops for photos. We will have opportunities to enjoy lunches with amazing views, local cuisine and fabulous local wines, or liquors at your leisure, during or at the end of each day's walk. We will even have an included wine tasting to enjoy at the end of one of our walks and we will enjoy an included lunch with a panoramic view during two of our walks.
All of our walks are private for just our group and all are led by a local who will share a local's knowledge of the region to our private group. Our group is limited to only 12 people, plus 2 trip escorts from S.C.A.T. plus our local walking guides, so our passengers on this trip have the best opportunity to experience this incredible region in the best small group environment.
We will be based the entire week in one hotel, enabling all to unpack just once and enjoy this gorgeous region of Italy. Our hotel is a short walk from charming restaurants to enjoy authentic Italian cuisines and wines with a view each evening, at your leisure and plenty of chic shopping, following our walks, if you desire, or enjoy our hotel's indoor pool and sun terrace with Jacuzzi, to relax, after our daily walks, or enjoy relaxing on the beach on a lounge chair overlooking the sea, or if you wish, take a dip in the warm sea.. Our hotel is also walking distance to the local train station, making for easy access on the one full free day in our itinerary, for you to visit any of the nearby cities, attractions or return for another day in the Cinque Terre villages at your own leisure.

Late May is the ideal period to enjoy the walks and villages of the Cinque Terre, as the flowers have just bloomed, the average daily temperature is a very comfortable 70 degrees and the summer crowds have not yet arrived.

TREASURES OF PERU
Featuring Machu Pichu, Cuzco, & the Sacred Valley
Plus a visit to the Pisac open-air market to shop for native handicrafts
Plus Lake Titicaca to interact with the native Uros Indians,
And 2 nights in Ica to enjoy a wildlife cruise of the Ballestas Islands (a Mini-Galapagos & to enjoy a desert jeep ride over the vast sands)
Add an Optional 2 day extension to Sun and Moon islands of Bolivia, off the coast of Lake Titicaca

JUNE 15-24, 2023

Optional post tour two night Bolivia extension dates June 24-26,2023.



The famous ruins & temples of Machu Pichu Peru
Join us for a journey to the sacred lands of Peru. We will explore the Incan wonder that is Machu Pichu, exlore the treasures of the sacred valley of Ollantaytambo and Cusco, shop for local handicrafts in the open air market of Pisac, visit with the native Uros Indians along the shores of beautiful Lake Titicaca and enjoy 2 nights in Ica with an incredible two hour wildlife cruise of the Ballestas islands, which has been called a "mini Galapagos islands", due to its abundance of so many species of wildlife on its shores and rocks in full view for great photo opps
A thrilling one hour jeep safari across the desert sands near Ica will be another memorable experience.

And if you want more, join us for our optional 2 day extension to visit the stunning Sun and Moon islands of Bolivia, just off the coast of Lake Titicaca.

Weather at this time of year is ideal, as it is the dry season in Peru. This means we will enjoy ideal sightseeing weather with very little to no rain at all, across all regions on our trip itinerary. Temperatures are also mild in June, with day time highs pleasantly in the 70's in Lima and along the Paracas coast and in the upper 60's in Cusco, Machu Pichu and Lake Titicaca.

PORTUGAL'S COASTAL ALGARVE
BEACH AND COASTAL WALKING TOUR
The beaches and coastline of Portugal's Algarve region on the west coast of the country are some of the most beautiful in the world and have become one of the most sought after destinations for anyone seeking to witness breathtaking and dramatic coastal scenery.
Go beyond the Algarve and explore the most pristine coastal trails in Portugal on this guided tour of coastal and beach walks, providing the most stunning vistas along Portugal's Algarve coastline.
Passing wild beaches, whitewashed villages and towering cliffs, the Rota Vicentina is one of the great coastal walking/hiking routes in Europe. Our tour operator has handpicked the very best walks from this extensive network of coastal trails, which span the tranquil Alentejo region and along the few remaining undeveloped shores of Portugal's stunningly beautiful Algarve.

Starting from the picturesque town of Vila Nova de Milfontes, we walk on quiet coastal trails admiring dramatic cliffs. We will access the beaches and best spots on the Algarve coastline and we will end in the town of Sagres, on the western edge of the dramatic Algarve.
We stay overnight in three different villages, each chosen to provide easy access to the stunning vistas along these walking trails. The refreshing coastal breeze and inviting landscape make walking in this remote corner of Europe truly reinvigorating.
Each day's walks are along coastal trails with little to no ascent (at most between 250 and 675 feet total daily ascent on any of our daily coastal walks), thus anyone in reasonable fitness shape can enjoy these guided walks and the stunning scenery that each walk will provide you.
September is a good time of year to visit the Algarve region for reliably dry, sunny weather, warm sea temperatures and pleasant ocean breezes, (minus the uncomfortable heat that characterize the earlier months of June-August.)
The average high temps. in this region in September are between 72-78 degrees, making it ideal for coastal walks, with those pleasant coastal breezes. September is also part of the dry season in this region (The wet season being Nov-Mar), so the walking conditions are reliably ideal in September.

EASTER ISLAND AND MAIN LAND CHILE - OCT 19 - 29, 2024
VISIT ONE OF THE MOST UNIQUE ISLANDS IN THE WORLD
PLUS THE SCINTILLATING SITES OF SANTIAGO
AND THE AMAZING ATACAMA REGION OF CHILE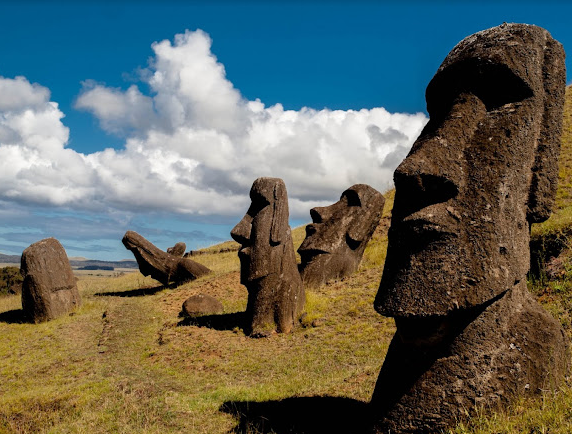 The Mysterious Moai Statues on Easter Island
Join us for a very unique tour.
Easter Island is home to some of the most rare and unique sites in the world. It is not visited by any cruise ship and is only reached by a flight from Santiago on the mainland of Chile.
Easter Island is home to over 1000 enormous stone statues called Moais. Some of the statues stand along the beaches, some are found lying or leaning, along hillsides while others are in a quarry and still more are found in other spots around the island. The statues are as large as 71 feet in height.
Moai statues are massive megaliths at Easter Island, and these are what this island is famous for. The moais were built in approximately 1400 - 1650 A.D. by the natives of this island who were also known as the Rapa Nui civilization
We will witness these statues and learn of their mysterious origins, as well as enjoy a tour of this scenic island and enjoy other fun activities including a beach picnic BBQ, a stargazing in one of the most star filled dark skies in the world, and a most compelling sunrise over the island
After our visit to Easter Island we will return to the mainland of Chile and be taken to another very unique destination, the Atacama region, home to one of the most unusual deserts in the world, as well as a salt water lake that has such a high salt concentration, you can actually float in it (It is often referred to as the "Dead Sea of the Western Hemisphere).
We will also visit Termas de Puritama.a unique hot springs consisting of seven natural pools, containing natural healing properties, said to provide calming effects to the body.
We also enjoy the sites of Santiago, one of the most beautiful cites in South America..