EASTER ISLAND AND MAIN LAND CHILE - OCT 19 - 29, 2024
VISIT ONE OF THE MOST UNIQUE ISLANDS IN THE WORLD
PLUS THE SCINTILLATING SITES OF SANTIAGO
AND THE AMAZING ATACAMA REGION OF CHILE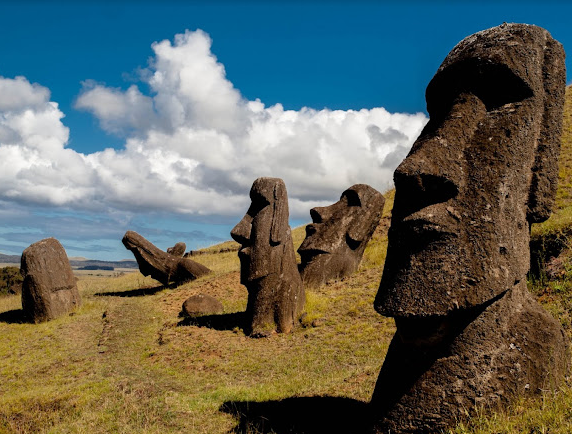 The Mysterious Moai Statues on Easter Island
Join us for a very unique tour.
Easter Island is home to some of the most rare and unique sites in the world. It is not visited by any cruise ship and is only reached by a flight from Santiago on the mainland of Chile.
Easter Island is home to over 1000 enormous stone statues called Moais. Some of the statues stand along the beaches, some are found lying or leaning, along hillsides while others are in a quarry and still more are found in other spots around the island. The statues are as large as 71 feet in height.
Moai statues are massive megaliths at Easter Island, and these are what this island is famous for. The moais were built in approximately 1400 - 1650 A.D. by the natives of this island who were also known as the Rapa Nui civilization
We will witness these statues and learn of their mysterious origins, as well as enjoy a tour of this scenic island and enjoy other fun activities including a beach picnic BBQ, a stargazing in one of the most star filled dark skies in the world, and a most compelling sunrise over the island
After our visit to Easter Island we will return to the mainland of Chile and be taken to another very unique destination, the Atacama region, home to one of the most unusual deserts in the world, as well as a salt water lake that has such a high salt concentration, you can actually float in it (It is often referred to as the "Dead Sea of the Western Hemisphere).
We will also visit Termas de Puritama.a unique hot springs consisting of seven natural pools, containing natural healing properties, said to provide calming effects to the body.
We also enjoy the sites of Santiago, one of the most beautiful cites in South America..
Daily itinerary
SAT OCT 19, 2024 ARRIVE INTO SANTIAGO CHILE
Arrive and transfer to HOTEL PULLMAN EL BOSQUE for our two night stay in Santiago (check in at hotel is at 3pm)
Passengers flying from the US can get a nonstop flight from either Miami, Atlanta, NY, Houston-IAH or Dallas-DFW
Passengers continuing from our Galapagos islands/Ecuador tour will fly nonstop from Guayaquil Ecuador to Santiago Chile.
The remainder of the day is at leisure. We will have a welcome orientation this evening.
The remodeled four-star hotel boasting18 floors and 234 spacious rooms is located in the exclusive financial, commercial and dining district of Santiago near the Tobalaba metro and Costanera Center. It features a swimming pool and gym on the 18th floor, WIFI in public areas and rooms, meeting facilities and underground parking. The terrace and nature-inspired Lila Bar & Restaurant are on the first floor.
SUN Oct 20, 2024 AM Santiago City Tour
10AM: The excursion begins by touring the main avenues in the city's civic center. Highlights include La Moneda Palace, which was completed in 1805 (after more than 20 years of off-and-on construction). The neoclassical building was the home of Chilean presidents until 1958, and today is the seat of the government. Continue exploring narrow streets, eventually arriving at the Plaza de Armas, a picturesque square surrounded by the 18th-century Cathedral Metropolitana, the National Historical Museum, and the central post office.
Leaving downtown, head toward Parque Forestal, which leads to the Fine Arts Museum, and Bellavista, the artsy, bohemian center of Santiago? Ascend Santa San Cristóbal, a beautiful public park whose peak—the perfect place for a panoramic shot of the city—is crowned with a 118-foot statue of the Virgin Mary. Descend and travel the other direction to the neighborhoods of Pedro de Valdivia Norte, Las Condes and Vitacura, the modern commercial districts and great places for shopping. Return to your hotel.
OVERNIGHT: HOTEL PULLMAN EL BOSQUE

MEALS TODAY: BREAKFAST
MON Oct 21 2024 Santiago-Easter Island
06.00AM Transfer to the airport for flight LA 841 09:25am-12:45pm, to mysterious Easter Island (about 5 hours). You will be arriving at Mataveri airport where your guide will be receiving you with the traditional Polynesian flower leis. Then, we will be transferred to Hotel Altiplanico for your check-in. Afternoon free.
We will stay 4 nights in Easter Island at the ALTIPLANICO RAPA NUI HOTEL
The hotel has a panoramic view of the shoreline on one of the world's most unique destinations, Altiplanico Rapanui is designed in the style of the traditional Rapanui boathouse, with luxurious gardens, a beautiful swimming pool viewing the sea and large open spaces to relax after encountering the seductive mysteries of the island.
A free breakfast buffet, a rooftop terrace, and a garden are just a few of the amenities provided at Altiplanico Rapa Nui. Stay connected with free Wi-Fi in public areas, and guests can find other amenities such as dry cleaning/laundry services and a bar.
Other perks at this hotel include:
An outdoor pool
A front-desk safe, concierge services, and smoke-free premises
24-hour front desk
All 56 individually decorated rooms have amenities such as safes.
More amenities include:
Bathrooms with rainfall showers and free toiletries
Balconies, and ceiling fans
MEALS TODAY: BREAKFAST

he lush grounds behind our hotel on Easter Island

The breathtaking panoramic views from our hotel on stunning Easter Island
TUE OCT 22, 2024 Easter Island Tahai & Orongo
9.30am We pick you up in the morning for your first visit at the ceremonial site of Tahai with 3 Ahus (platforms) and re-erected statues, the Moais. We also can appreciate remains of boathouses, a boat ramp and other features. Here we see the only statue with eyes. Then we drive to restored Ahu Akivi with 7 Moais, built in the middle of the island. The legend tells us that these statues are representing the 7 explorers who were sent to Rapa Nui by the king Hotu Matua.
Moai statues were built to honor chieftain or other important people who had passed away. They were placed on rectangular stone platforms called ahu, which are tombs for the people that the statues represented. The moais were intentionally made with different characteristics since they were intended to keep the appearance of the person it represented.
Almost all moai have overly large heads, which comprise three-eighths the size of the whole statue and they have no legs. The moai are chiefly the living faces (aringa ora) of revered ancestors who were considered by the islanders of their time to have risen to deity status (
We will proceed to the topknot-quarry Puna Pau with its red scoria stone, where all the Pukaos were made.
Last stop will be restored Ahu Huri Aurenga, showing a statue with 4 hands, and its special orientation towards the rising sun of the winter solstice. Return to hotel Afternoon Orongo In the afternoon we drive up the extinct volcano Rano Kau, appreciate on the way a view over the whole island and see its distinct geological features, proceed to an outlook at the crater lake. Afterwards drive to the ceremonial village of Orongo, where the birdman competition took place and you can see the spectacular petroglyphs related to this culture, enjoy the breathtaking view towards the 3 islets Motu Nui, Motu Iti and Motu Kao Kao opposite the coast.
We will be driven down again to Ahu Vinapu (not restored) and for some still proof of the influence of pre-inca arquitects in Easter Island culture. Last stop is Ana Kai Tangata cave with paintings. We are not allowed to enter the cave anymore, but there are still some interesting historical facts related to the cave which are worth knowing. Back to hotel.
OVERNIGHT: ALTIPLANICO RAPA NUI HOTEL

MEALS TODAY: BREAKFAST
WED OCT 23, 2024 Easter Island – AM Tongariki - Night Star Gazing
AM Tongariki Sunrise –
This morning's trip starts out very early, about 06:00 to 07:00 AM,
From here they will take a road that leads to the southern coast area until reaching Ahu Tongariki, the largest ceremonial center in all of Polynesia. Fifteen Moais stand here, more than 14 meters (45.9 ft.) tall, representing the islanders' ancestors, hence their different shapes and sizes. The waves crashing against the cliffs and the sun timidly rising from behind the gigantic sculptures are part of this great sunrise spectacle. Great time for taking pictures and walking around the site (the tour includes a light breakfast). At the end of the tour, return to your hotel.
FREE AFTERNOON –
At night Star Gazing : In the evening at approx. 9.15PM you will be picked up for the stargazing event. First of all there will be an introduction and a presentation of the Polynesian history, navigation, basic astronomy and archeo[1]astronomy to provide information about the importance for the Polynesians to read the stars for their extensive travels across the Pacific ocean. Leave the village, set up telescope, general overview of sky layout, stars and constellations of significance. Depending a bit on the weather conditions you can observe the night sky outside the village, without disturbance of artificial lights. Look at visible planets, nebulae, stars and clusters through telescope and binoculars. Drive to Anakena bach with the option of night photography by the moai.
OVERNIGHT: ALTIPLANICO RAPA NUI HOTEL

MEALS TODAY: BREAKFAST
THU OCT 24, 2024 Easter Island - Full day tour Anakena
9.30am In the morning we start for our full day tour which includes the following visits: We drive to the south coast and visit representative examples of not restored platforms, Ahus Vaihu in the bay of Hanga Te'e, and Akahanga, where supposedly the famous king Hotu Matu´a was buried.
We will then Proceed to Rano Raraku, quarry of almost 900 stone statues, 397 of them still lying or standing at the slopes of the extinct volcano with crater lake.
Then visit the close by Ahu Tongariki (restored with 15 Moais), most recent and biggest restoration on the island.
Then we are driven to Anakena beach where we'll enjoy a Picnic lunch that will be served in a barbecue area in Anakena and will be composed by 01 Main Course + 01 mineral water or 01 fruit juice. After lunch we visit restored Ahus Nau Nau and Ature Huke. Picnic Lunch included For a last stop we drive to the east coast and visit Ahu Te Pito Kura, the "Navel of the World" and then we will be Returned to our hotel.
The expression Te Pito Kura means "navel of light" and some people relate the name of the place with the special qualities of this rock and with one of the names with which it is known to Easter Island, Te Pito O Te Henua which means "navel of the world".
Ahu Te Pito Kura has the largest statue that was ever successfully erected on Easter Island. It weighs approximately 70 tons. Today, the statue lies face down, with a broken head and separated torso. This moai awaits resurrection by archeologists.
OVERNIGHT: ALTIPLANICO RAPA NUI HOTEL

MEALS TODAY: BREAKFAST & BOX LUNCH
FRI OCT 25, 2024 Easter Island-Santiago
We will be transferred to the airport for flight to Santiago. Farewell with moai-necklaces. Arrive in Santiago and stay by the airport at Hotel Holiday Inn.
OVERNIGHT: HOLIDAY INN BY THE AIRPORT

MEALS TODAY: BREAKFAST
SAT OCT 26 2024 Santiago - Calama – San Pedro de Atacama
Reception at Calama airport and transfer to the hotel in San Pedro de Atacama. On the road, we will visit the Salt Mountain, Mars Valley (also called Death Valley) and the spectacular Moon Valley (given its name because its landscape reminds many visitors of pictures of the landscapes on the moon)
In 2001, UNESCO declared the Moon Valley a natural wonder of Earth, and one of the World Heritage Sites; thus, protecting and preserving its treasures of rocks, minerals, salts, plants, and animals. Miners are now prohibited from exploiting its crystal rocks, making it a sort of natural reserve.
The hotel and the town of San Pedro De Atacama and its unique moon like surroundings is at an altitude of approx..8000 - 10,000 feet above sea level.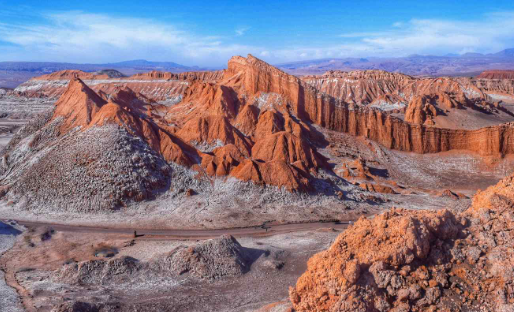 The rugged landscapes of the Atacama region of Chile
Here we will admire the spectacular sunset reflected on this wonderful landscape – nature's own light show
Many have called the sunset over the Atacama as the most spectacular sunset.
One traveler wrote

"The bright orange sun slowly descended, as it blanketed the sky with an orange hue, followed by a gradient of deep blue, pink and purple. Finally, the valley turned dark and the moon shone bright. It was the most magical sunset I've ever seen… this felt as unreal to me."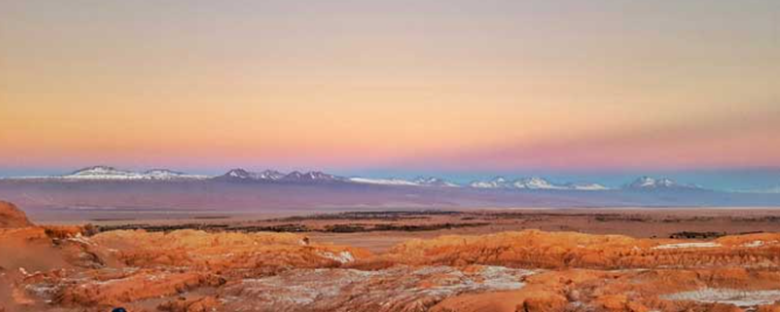 The sun setting over the Atacama Desert of Chile
After marveling at the sunset here, we will be taken to our hotel for a three night stay
HOTEL DIEGO DE ALMAGRO SAN PEDRO
You can look forward to a free breakfast buffet, a terrace, and laundry facilities at Diego de Almagro
San Pedro de Atacama. Free in-room Wi-Fi___33 is available to all guests, along with a bar and a restaurant.
You'll also enjoy perks such as:
An outdoor pool
Concierge services, a front-desk safe, and a 24-hour front desk
Multilingual staff, 2 meeting rooms, and smoke-free premises
Room features

All 58 rooms have amenities such as free Wi-Fi___33
Other conveniences in all rooms include:
Bathrooms with shower/tub combinations and free toiletries
Flat-screen TVs with cable channels
Heating, daily housekeeping, and phones
MEALS TODAY: BREAKFAST

The local flair in the Outdoor terrace at our hotel
SUN OCT 27 2024 San Pedro de Atacama
Breakfast at the hotel. Full day excursion. High Plateau: We will start by visiting the Atacama Salt Flat, which is Chile's biggest Salt Flat and among one of the largest in the world. Here we will find Chaxa Lagoon, where three different species of flamingoes live and breed. We will also have the chance of visiting the picturesque village of Toconao, where the most important attraction is its Bell Tower constructed in the classical atacamenian way. This area is part of the Flamingos National Reserve. These lagoons are surrounded by impressive volcanoes that were formed when the Andes Mountain Range rose from the sea through millions of years of evolution.
We will also visit Cejar Lagoon where you can float easily providing a fun and relaxing experience for visitors, much like the famous Dead Sea in Israel
The Cejar Lagoon is at an altitude of 8000 feet.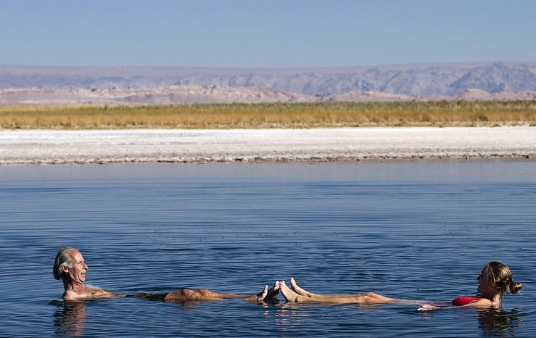 Visitors can easily float in the Cejar Lagoon.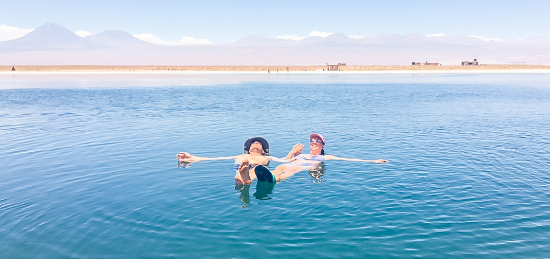 Lay back and just Relax in Cejar lagoon's waters…Yes… you can actually just float…
This unparalleled spot is also a must stop for the route of the pink flamingos. After enjoying this wonderful place and this unique experience. we will be returned to San Pedro de Atacama hotel for overnight.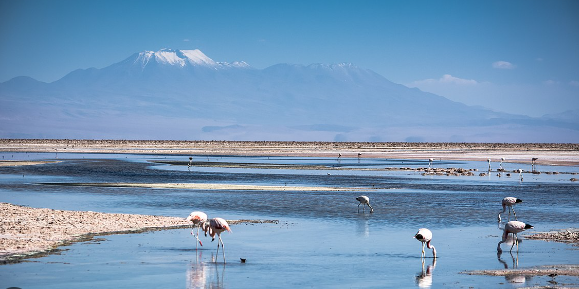 PINK FLAMINGOS AT CHAXA LAGOON WITH A STUNNING MOUNTAIN SETTING

BEAUTIFUL SYMETRY OF TWO FLAMIGOS DRINKING TOGETHER AT THE LAGOON
OVERNIGHT: HOTEL DIEGO DE ALMAGRO SAN PEDRO

MEALS TODAY: BREAKFAST & LUNCH
MON OCT 28 2024 San Pedro de Atacama (B)
AM leave San Pedro de Atacama to the west, visiting first Yerbas Buenas, a sector of great historical importance, since it has one of the most important groups of petroglyphs in the region. We will find very varied rock carvings and drawings such as llamas, camelids, birds, monkeys and dogs.
Then, you will visit the place known as Valle del Arcoíris. We will stop to stretch our legs and visit this place on a 1-hour walk there and 1 hour back, whose name is due to the varied colors of the rocks, a product of the different minerals they contain.

The uniquely shaped and colored rock formations of the Valle de Arcoris
We will be returned to San Pedro de Atacama where you will have the option to relax at the hotel this afternoon or join us on our included visit to the natural hot spring pools of Termas de Puritama.
The space has seven natural pools at a temperature of 33ºC, located in a ravine with vegetation. Its waters are known for possessing healing properties provide a sense of calm, ideal to close the trip. After recovering your energy, you'll return to the hotel in San Pedro de Atacama.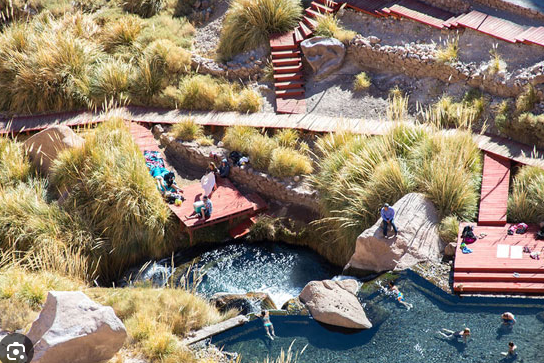 One of the unique pools at the Termas de Puritama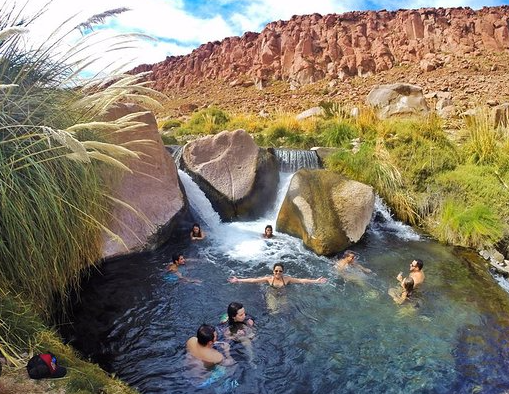 Soaking alongside a small waterfall at the Termas de Puritama.

A fitting Finale to our incredible tour
OVERNIGHT: HOTEL DIEGO DE ALMAGRO SAN PEDRO

MEALS TODAY: BREAKFAST
TUE OCT 29, 2024 San Pedro de Atacama – Calama - Santiago
Breakfast at the hotel. At the agree time transfer to Calama airport in order to take your flight to Santiago. End of our services
OVERNIGHT: NONE

MEALS TODAY: BREAKFAST
HOTELS

Hotel Pullman El Bosque Santiago – (01 night)
Hotel Altiplanico Rapa Nui Easter Island – (04 nights)
Hotel Holiday Inn Santiago – (01 night)
Hotel Diego de Almagro San Pedro - (03 nights)
Includes –
All excursions, as listed in the itinerary
All accommodations including breakfast daily
Meals as listed in the itinerary
All transportation between destinations in the itinerary
Round trip Flights between Santiago and Easter Island
Not Included:
International flights from/to the US (or from Ecuador for passengers continuing from our Galapagos trip),
Tips to local guides.
Optional Travel insurance
TRIP COST:
$5897 pet person plus tax of $89 per person based on two people per room
Optional single room supplement $1225 plus $149 tax
A deposit of $750 is due within 7 days of booking.
The balance payment is due June 15th
Cancel policy for this trip.
If you ask us to assign you a roommate and you cancel between the date you make your deposit and April 15th, you will lose $500 of your $750.
If you cancel after April 15th you will lose the full $750.
If you are booking this trip with your own friend as your roommate or in single occupancy, you can cancel until April 15th and only lose $250 of your $750 deposit

Cancelling between April 15th and May 15th, you will lose $500. Canceling after May 15th you will lose your full $750 deposit.
Travel insurance is recommended. We suggest Allianz Global insurance at 800-949-6201