SOLO TRAVELERS ONLY

YACHT CRUISE OF CROATIA AND HER ISLANDS

August 19-26, 2023

A LUXURY YACHT FOR ONLY 19 PASSENGERS – ALL SOLO TRAVELERS

ALL IN SINGLE OCCUPANCY



Korcula town on the island of the same name

Imagine yourself reclining under a deep azure sky, as the polished teak deck moves almost imperceptibly with the rhythm of the sea and a refreshing evening breeze glides in the air.

In the small, picturesque ports on the Dalmatian coast, surrounded by low cliffs, where the 'mega-cruise liners", boasting their ever-larger passenger numbers, are conspicuous by their absence here, you are cruising along Croatia's breathtaking Dalmatian coast aboard your very own yacht-cruiser.

Normally the preserve of the wealthy, you can now experience a magnificent vessel carrying less than 20 guests. Smaller numbers means a more personal service, but even more importantly our yacht will visit stunningly attractive out of the way ports like Split, Korcula Island, Hvar Island, and at Mljet National Park on secluded Mljet Island. At each stop, you will enjoy an included guided tour, provided by a member of the cruise team. Each of these tours offers a much more intimate onshore experience, because each tour is private for just the 19 people aboard this exclusive Solo Travelers Only Yacht Cruise of Croatia.
With so few fellow travelers, a 'select' atmosphere soon prevails as you gather in the convivial surroundings of the bar or up on the sun deck with your new solo traveler friends. The friendly, attentive yet unobtrusive staff attends to your every need as if you owned the vessel yourself – that's how relaxed it is on this unique type of cruise.
Enjoy spectacular coastal views while reclining on a sun lounger or hammock or soaking in the hot tub on the ample Sun Deck.
Below you will find the Salon Deck with the elegant restaurant and bar, beautifully furnished and fully air conditioned for your comfort. Each day begins with an excellent breakfast on board with a selection of hot and cold options, before we enjoy an included daily guided tour in each of the stunning ports we will visit each glorious sun filled day.
And with that sunshine, comes plenty of opportunities for swimming in clear blue waters and for enjoying stunning secluded beaches.
A delicious lunch is provided onboard in five of our sun kissed ports.

At dinner time, enjoy a mix of gourmet dinners onboard, including the Welcome Dinner on night one, the Captain's dinner on our last night, plus two more gourmet dinners onboard. You will also have an opportunity in three of our ports, to sample the local cuisine in your choice of the numerous seaside cafes and restaurants with a view and wonderful ambience with an opportunity to then take a stroll and explore the island atmosphere and vibe at night, as our yacht remains each night in our port of call, so you can take an after dinner stroll, or just enjoy each island's nighttime atmosphere and fun, at your leisure and at your own pace, exploring these fascinating unspoiled ports after the sun has gone down.

After just a few days of this extraordinary experience you will be on first-name terms with the ship's crew and your fellow Solo Traveler Only cruise guests. There is very little formality – shorts and t-shirts are the order of the day. This is exactly how vacations should be !
Experience more with so much included
Cruise along the Dalmatian coast, one of the world's most dramatic landscapes, studded with beautifully preserved and atmospheric Venetian influenced medieval towns and some of Europe's clearest waters
Sail between smaller islands and ports, allowing spectacular coastal views normally inaccessible to larger cruise liners
City Tour of Dubrovnik, The Pearl of the Adriatic Sea Coast
Tour of Split and Emperor Diocletian's monumental palace, one of the greatest structures of the Roman Empire
Visit the stunningly beautiful islands of Hvar and Mljet
Guided tour of the stunning Mljet National Park and of Hvar island
Guided tour of Korcula, one of the Adriatic's most perfectly preserved medieval ports, where Marco Polo was born
Seven night cruise on the four-star luxury Yacht MS Adriatic Sun
Daily breakfast onboard your glorious yacht, five lunches onboard and three dinners onboard, including
the "Welcome Aboard" dinner on Day 1, the " Cruising the City Walls" dinner onboard on Day 3 and the festive "Captain's Farewell Dinner" on day 7.
Swimming stops on days 2,3,6 & 7, in stunning secluded coves or along glorious sandy beaches, either before or after that day's guided tour.
CRUISE ITINERARY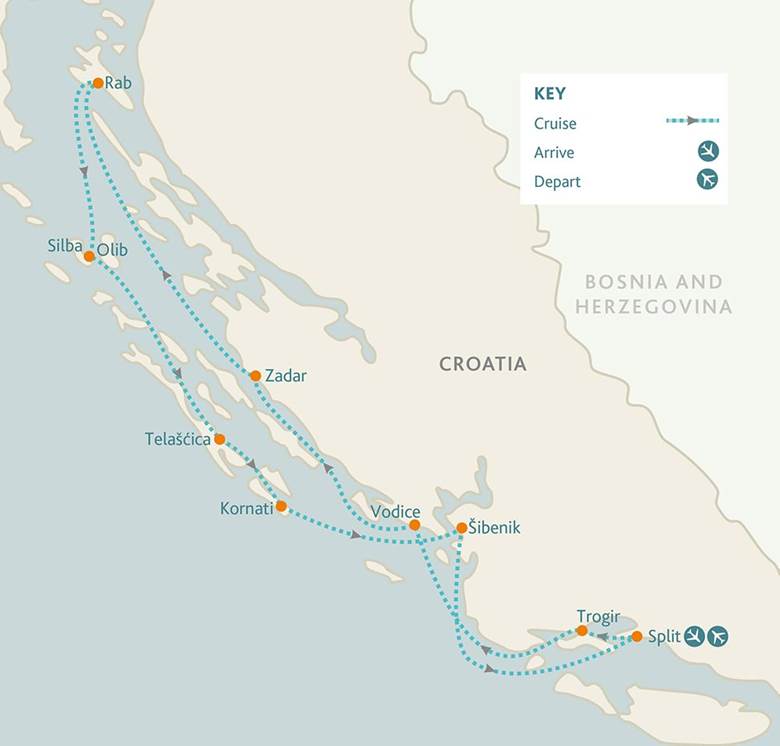 Day 1 –Saturday August 19, 2023

EMBARK IN SPLIT, CROATIA

Fly on your own arrangement into Split, the second largest city in Croatia, Embark this afternoon in Split, on the superb four-star Yacht MS Adriatic Sun, your home for the next seven nights. The captain and crew will be on hand to welcome you and then, having settled into your comfortable cabin and surroundings, our adventure begins!

For the rest of the day it's time to relax and get to know your fellow solo passengers – there are just nineteen passengers in total on this special Solo Travelers Only Yacht Cruise!!

Perhaps you'll catch some 'rays' on the sun deck, relax in its glorious hot tub, sun loungers, or hammocks, or take a stroll ashore.
This evening, we have an informal gathering with the yacht's tour manager and your fellow travelers before enjoying a welcome dinner in the ship's restaurant. Perhaps later, you may wish to take an after-dinner stroll ashore in this most magical of cities, as we remain in Split overnight.
DAY 2 – SPLIT AND KORCULA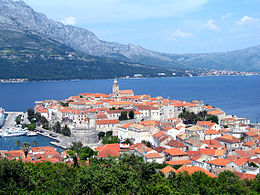 Korcula town on the island of the same name
As you rise refreshed in the morning and enjoy a leisurely breakfast onboard your glorious yacht, you'll be so glad you chose this truly unique cruise for your vacation. The MS Adriatic Sun, our home for the next week and every inch the glorious private yacht of many dreams, slips out of the harbor and out to sea. Split soon fades into the distance but we will of course return at the end of our cruise. It is impossible for large cruise liners to visit the charming and almost deserted hamlets accessible to our smaller yacht cruiser.
We will have time for a swim stop this morning before enjoying a delicious lunch on board, as stunning views of this spectacular coastline drift by and it's not long before we arrive into the historic town of Korcula. Ruled by the Venetians for 800 years, it is rather reminiscent of a much smaller Dubrovnik, with its host of tangled lanes so typical of medieval Mediterranean ports.
The town is a charming small fortress, celebrated for supplying timber for the wooden walls of Venice and its harbor was a major shelter for the Venetian fleet. You'll find architectural gems at every turn in its narrow cobbled streets. Famous for its artistic and musical traditions, Korcula has its own unique sword dance, the 'moreska', and a form of a-capella singing, but is much more famous as the birthplace of the explorer Marco Polo. His house can still be visited, as can the All Saints museum with its glorious collection of Byzantine icons.
After our guided walking tour you are free to explore this beautiful town further. You can enjoy dinner at your leisure tonight in one of the many cafes and seaside restaurants with a view and wonderful ambience in Korcula, and then enjoy a visit to a pub or other nightlife of Korcula, if you wish, and return to our yacht at a time of your choosing, as our yacht remains here overnight.
DAY 3 - KORCULA TO MLJET ISLAND AND NATIONAL PARK, THEN DUBROVNIK FOR OVERNIGHT

Mljet Island, where we will enjoy a guided tour today of the stunningly beautiful Mjlet National Park
The Dalmatian coastline is legendary: one of Europe's most dramatic, extending for hundreds of miles, where steep limestone cliffs plunge into sapphire-blue waters. The mirror-like Adriatic is studded with countless islands, some tiny, some large, some inhabited, some not.
We arrive at Mljet, one of the most seductive of such islands, where the hillsides are clad in a green carpet of lush pine forests bringing that instantly recognizable Mediterranean aroma to the air. Nestling in picturesque coves are medieval fishing villages, refreshingly free from tasteless development, where the alleyways are simply pebbles set into the earth and overhead shutters sway precariously in the warm, gentle breezes. Life here continues much as it has for centuries.
This morning we go ashore to enjoy a tour of the stunning national park with a visit to the tiny islet of St Mary's with its 12th-century former Benedictine monastery. With its colorful walls and alter carved from local stone you will already feel a long way from home in this most beautiful atmospheric of places – it's easy to see why legend has it that the Greek hero Ulysses came here to contemplate.
After lunch on board your yacht, there will be the opportunity for a swim, then sit back, relax and enjoy the spectacular views from the sun deck, on a deck lounger, or even on a soak in the hot tub, as we cruise into the magical city of Dubrovnik. During tonight's dinner onboard on your yacht, we will cruise alongside the ancient city walls before dropping anchor.
DAY 4 DUBROVNIK GUIDED TOUR

The walled city of Dubrovnik
Awakening in the magical walled city of Dubrovnik, after breakfast onboard, we will take a guided tour of the old town, an independent city-state for much of its history, it has evolved differently to the rest of Croatia. The city threw off its Venetian shackles during medieval times founding a commercial empire trading with the eastern Mediterranean, France, Spain and later the Ottoman Empire. As so often happened, the city began to reflect its resultant wealth and today this wonderfully Baroque city proudly nestles behind its huge imposing ramparts in a situation of outstanding natural beauty. The main avenue, lined by intimate cafés, is completely paved with gleaming marble, which dazzles in the sunlight and gives credence to the city's description as the 'Pearl of the Adriatic.

Throughout the city you will find a wonderful array of monasteries, beautifully decorated churches and civic buildings dating from the 14th century.

This evening, enjoy another delicious dinner at your leisure in one of the many traditional restaurants in this most enchanting of cities, and then enjoy the many pubs and other nightlife, as our yacht remains overnight here.
DAY 5 -
DUBROVNIK to the PELJESAC PENNINSULA

The pretty little seaside village of Trstenik on the Peljesac Penninsula
Over breakfast onboard this morning we say our fond farewells to Dubrovnik as the mighty walls of the old city slowly fade away into the hazy horizon. One of the huge delights of taking this kind of cruise, is that our yacht can sail between the smaller islands, which are inaccessible to the larger cruise liners, so you can experience fabulous coastal views in a much more intimate way. Sit back and relax over lunch on board and absorb the stunning coastal spectacle before you, as the sun glints on the crystal clear waters. As we glide on past these truly beautiful seascapes, undiscovered beaches with secret coves and tiny traditional hamlets, unchanged for decades, we arrive at the pretty little seaside village of Trstenik on the Peljesac Penninsula.

Nestled at the foot of the rolling hills behind it, this picturesque, secluded spot is famed for its wine production, where generations of families have produced excellent wines for hundreds of years.

We remain here overnight, so enjoy dinner and the nightlife of the island at your leisure in this charming spot, where you can really feel like you are getting away from it all !!
DAY 6 -
PELJESAC PENNINSULA to HVAR Island

The enchanting island of Hvar
After breakfast onboard, you can take to the deck to see the spectacular coastline sliding by, as this morning we cruise northwards. There will also be the opportunity for a swim stop here in one of the world's most beautiful stretches of water.

We will enjoy lunch on board the yacht, before disembarking this afternoon into the delightful and bewitching little town of Hvar on the island of the same name, in an enchanting archipelago. Wandering here is pure joy and remarkably, it's so compact and cozy, the streets don't even have names.

With its fresh water springs, the island is unusually green, its hillsides boasting spectacular pine forests. Elsewhere you'll find olive groves, orchards and vineyards, the aromatic pleasures of the island exemplified by the delicate fragrance of abundant lavender fields.

Hvar has been inhabited since Neolithic times; later, the ancient Greeks founded a colony here, and during the 14th century, as the Venetian Empire extended its influence, it became a major naval base. Also on the island's northern shores are some distinctive fortified 16th century buildings, built to repel pirates and assaults by the Ottoman Empire.
After exploring Hvar's agricultural, historical and cultural splendors on our guided walking tour, dine at leisure where you wish. The yacht remains on the island overnight.
DAY 7 - HVAR - BOL – SPLIT

The stunning beaches on the island of Brac
This morning's cruise brings us to Brac, the largest of the islands on this dramatic stretch of coastline; a typically Mediterranean landscape where its spectacular beaches give way to high pine forested uplands, and where a rich harvest of vines, olives and orange trees crowd the fertile valleys. Once dependent on its grape harvest, the island also relied heavily on the export of its stone – a mixture of marble and limestone – used in the construction of Diocletian's Palace but also of buildings as diverse as the White House in Washington to Berlin's Reichstag and closer to home, the high altar in Liverpool's cathedral.
We head to the picturesque town of Bol and you might like to take the opportunity for a swim from the stunning beach. During lunch back on board we cruise back into historic Split, principally famous for a single building, the Emperor Diocletian's huge palace, one of the greatest structures of the Roman Empire. No expense was spared in its construction - the best Italian marble, with columns and sphinxes from Egypt. But what makes this palace so astonishing is that during medieval times it was fully integrated into the town's fabric with a jumble of buildings grafted onto and inside it. This means, for example, the temple of Jupiter became a baptistry. It's all the more fascinating that today 3,000 people still live here. You will find surprises at every turn: there are tall medieval buildings lining the streets, but buttressed by unmistakably Roman columns!
We have a guided walking tour of this fascinating complex which has recently been used as the setting of the TV spectacular 'Game of Thrones'.
By the time you have breathed in the atmosphere and history of this glorious part of the coast, it's time to relax back on board as the Chef presents the Captain's Farewell Dinner – a delicious selection of Croatian and Mediterranean specialties.

Later the bar on the sun deck awaits for a drink and the chance to reflect on treasured memories of this wonderful journey with newly made friends.
ABOUT OUR YACHT – THE MS ADRIATIC SUN

We are thrilled to introduce the MS Adriatic Sun; launched in 2018 offering luxury, quite simply, on another level with upper deck cabins providing their own glamorous private balcony to take in the views. At 47 meters/ 154 feet, she can still access the quaint unspoiled ports along this magnificent coastline, yet certainly makes a statement on the quayside, attracting envious glances from passers-by.

Accommodating a maximum of 38 guests in double occupancy, this special Solo Travelers Only cruise will have all passengers in Single Occupancy Only, thus with only 19 total passengers aboard, you will have even more room to relax, both in your own cabin, as well as on the sun deck and the rest of the public areas onboard your yacht vacation for the week. You'll feel like a VIP from the moment you step on board and are greeted by your professional, attentive crew. The contemporary interior is beautifully designed resulting in a spacious and airy feel throughout the ample public areas. You'll be served delicious cuisine in the chic, stylish restaurant, with a well-stocked bar for your favorite drink. Take in some of Europe's most dramatic coastal views from the magnificent sun deck where there are plenty of shaded areas, plenty of sun loungers and an inviting hot tub.

A total of 19 stunning guest cabins are available, measuring approximately 14-17 square meters (150 – 183 square feet). Cleverly designed and stylishly furnished for your maximum comfort, in a calming palette of creamy colors and warm woods, with luxurious double or twin beds and contemporary fittings. All cabins feature wardrobe, desk and chair, TV, hairdryer and Wi-Fi, plus a sparkling bathroom with shower.

THIS VERY EXCLUSIVE SOLO TRAVELERS ONLY YACHT CRUISE IS LIMITED TO ONLY 19 PASSENGERS TOTAL AND ONCE SOLD OUT, NO MORE CAN GO (THE YACHT ONLY HAS 19 CABINS TOTAL !) IT WILL SELL OUT FAST, SO CALL US FAST TO BOOK YOUR SPACE OR BOOK ON OUR WEBSITE!

ALL CABINS AND ALL PRICING IS SINGLE OCCUPANCY. THERE WILL BE NO DOUBLE OCCUPANCY BOOKINGS ON THIS EXCLUSIVE YACHT CRUISE.
OCEAN VIEW CABINS WITH WINDOWS IN THE CABINS: $4999 plus tax of $219

Or UPGRADE to a BALCONY CABIN FOR BREATHTAKING SEA VIEWS FROM YOUR OWN BALCONY: ONLY $1399 plus an additional $30 tax.
ALL CABINS INCLUDE
7 NIGHT YACHT CRUISE ABOARD THE MS ADRIATIC SEA AUGUST 19-26,2023
BREAKFAST DAILY ONBOARD THE YACHT
5 LUNCHES ONBOARD THE YACHT
WELCOME DINNER ONBOARD THE YACHT ON DAY ONE
CAPTAIN'S DINNER ONBOARD THE YACHT ON DAY SEVEN
"CITY WALLS" DINNER ONBOARD THE YACHT ON DAY THREE, AS WE CRUISE ALONG THE DUBROVNIK CITY WALLS UPON ARRIVAL INTO THIS MAGICAL CITY
FREE WIFI IN ALL CABINS
DAILY GUIDED SIGHTSEEING TOURS AS LISTED IN THE CRUISE ITINERARY


PAYMENTS:

A $400 DEPOSIT IS REQUIRED WITHIN 7 DAYS OF MAKING YOUR BOOKING

THIS DEPOSIT IS NON-REFUNDABLE

YOUR BALANCE PAYMENT IS DUE FRIDAY APRIL 14TH, 2023 AND IS NON REFUNDABLE
TRAVEL INSURANCE IS AVAILABLE AND IS HIGHLY RECOMMENDED TO PROTECT YOU IN THE EVENT YOU NEED TO CANCEL FOR A MEDICAL OR OTHER REASON COVERED BY THE TRAVEL INSURANCE POLICY. THIS CAN BE ADDED TO YOUR CRUISE BOOKING AT THE TIME YOU MAKE YOUR DEPOSIT IF YOU WISH, OR WE CAN GIVE YOU THE PHONE NUMBER OF A PREFERRED TRAVEL INSURANCE PROVIDER IF YOU WISH TO COMPARE THEIR POLICY OPTIONS.