RHINE RIVER CRUISE
with
AN ENTIRE SHIP OF JUST SOLO TRAVELERS

ALL WITH A FREE SINGLE SUPPLEMENT


CRUISE DATES July 24-31, 2024


Join us for a one of a kind cruise. A cruise where the entire ship is only solo travelers and every passengers gets his/her own cabin & all receive a
FREE SINGLE SUPPLEMENT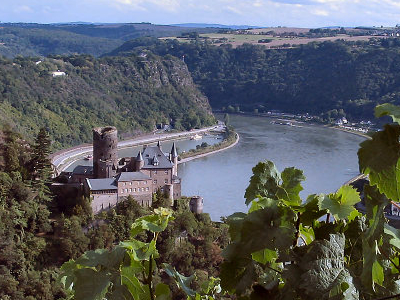 THE STUNNING RHINE GORGE WHICH WE WILL SAIL THROUGH FOR INCREDIBLE PHOTO OPPS AND MEMORIES OF A LIFETIME

Following our Sold Out July 2022 Rhine River Cruise for Only Solo Travelers with a Free Single Supplement, we are offering a repeat of the same sailing in July of 2023.

We are cruising the beautiful Rhine River. We will start are cruise in gorgeous Basel Switzerland.

Next we will visit Lucerne, the most beautiful and most popular city in Switzerland for admiring the stunning Swiss Alps in all their summer glory.

Next we head to the Bernese Oberland where we will enjoy an included train shore excursion to admire more incredible Swiss Alps vistas, only accessible by train.


Our cruise also visits ports in France and Germany, with included shore excursions, as well as a morning cruising through the stunning Rhine Gorge, with its dramatic cliffs, steep vineyards and other scenic wonders. The temperatures in our cruise ports along the Rhine River in late July average a perfect 78 degrees.

CRUISE ITINERARY

DAY 1 – . JULY 24TH, 2024


EMBARK IN BASEL

Arrive in Basel, where your five-star floating hotel is moored in the picturesque historic center. The dedicated English-speaking crew will welcome you aboard your first-class floating hotel, ensuring you settle into your luxurious, well-equipped cabin and familiarize yourself with the ship.

Every passenger on our entire ship this week is booked in single occupancy, on this most unique Solo Travelers Only Cruise! That also means the ship is sailing at only 50% capacity, which means more space to roam free onboard, relax on the expansive sun deck and enjoy gourmet breakfast and lunch buffets with no crowds and gourmet nightly meals and nightly music in the ship's piano bar, plus two nights of special themed musical performances.

The ship's capacity is normally only 170 passengers, but on this special Solo Travelers Only cruise, our ship will be holding only 85 passengers, meaning more personalized service to all.

Our cruise includes daily guided tours by either foot, coach or train (with the exception of our final day in Cologne, which is at your leisure to explore its fabulous old town and incredible cathedral at your own leisure.).

Our ship remains docked in Basel overnight on today's embarkation day, so, if you do not choose to add our optional 2 night pre cruise program, you will still have the flexibility to book your flight to arrive any time today. Boarding begins in the early afternoon and passengers can board anytime thereafter, in the afternoon, or evening.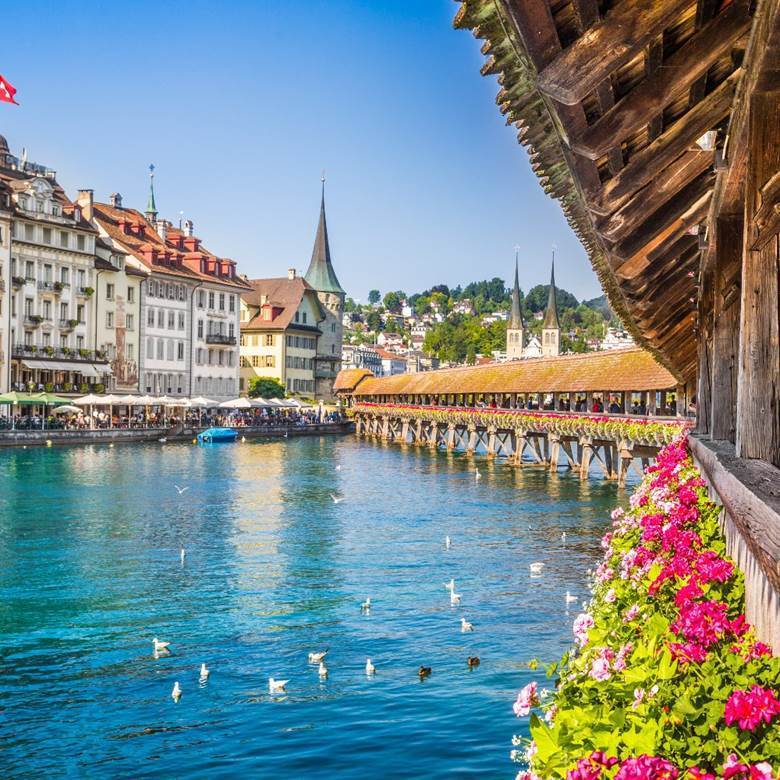 DAY 2 – JULY 25th 2024

BERNESE OBERLAND & LUCERNE

What a start to our cruise, as for many, today will be one of the highlights. On today's included shore excursion, you firstly will be taken on the short drive to Lucerne. Spectacularly nestled among stunning mountain views, it is by far Switzerland's most beautiful city and has been attracting well-heeled visitors for two centuries, one of the most famous of which is Queen Victoria. We will enjoy approx. one hour of free time to stroll its inviting promenades and shops. Don't miss taking an invigorating stroll along the Chapel Bridge, a symbol of the city, a unique and covered wooden walkway crossing the lake, supported by stilts, lined with colorful flower-filled window boxes and a superb way to absorb Lucerne's rather regal atmosphere.

The scenery becomes ever more dramatic, as we next are driven from Lucerne to the Bernese Oberland in central Switzerland, it becomes quite literally, breathtaking! This is the grand Alpine heart of Europe and amongst the finest mountain scenery on earth, described by the composer Mendelssohn as 'the most wonderful of all in this unbelievably beautiful country'. On viewing the legendary snow-capped peaks of the Eiger, Mönch, and Jungfrau, you'll be quite simply awestruck; this is quintessential Switzerland at its very best.

Our guided tour today then takes us to a mountain train station where we will be escorted in boarding the train. Our train then ascends the mountain for more extraordinary vistas, amazing photo opportunities and memories, with the crystal-clear lakes reflecting the grassy meadows and lush forests below. This truly magical landscape is sure to enchant you. Later we'll descend again by mountain railway before making the coach journey back to our ship in Basel.

Please note: temperatures will be significantly cooler on today's train journey, even during the summer months, so it's advisable to pack suitable clothing. The ship will offer a packed lunch to be taken from the ship and enjoy at your leisure, when you wish, onboard the train or coaches.

Tonight, you'll enjoy another splendid dinner in the excellent restaurant and then your choice of either enjoying the music of our ship's pianist onboard, or enjoying the nighttime scenes ashore in Basel, as our ship remains docked in Basel for a second night, then sailing in the early morning hours to arrive tomorrow morning in the town of Breisach, in the picturesque Black Forest region of Germany.
Day 3 – July 26th, 2024

BREISACH & the BLACK FOREST

This morning we arrive in the ancient town of Breisach, Germany. After breakfast, the morning is at your leisure to enjoy a stroll ashore, if you wish, to explore this picturesque town's historic heart, which is surrounded by immense stone ramparts and dominated by the impressive Saint Stephan's Cathedral.

Lunch is again served onboard the ship. Later, on our included shore excursion, we will be driven through some of Central Europe's most stunning scenery – the Black Forest mountains. This is a fabled landscape of rugged valleys, white-water rivers, cascading waterfalls and rolling hillsides covered with huge, densely packed pine trees – exactly as you expect it to be. Our destination is the idyllic village of Titisee, nestled on the shores of its crystal-clear lake. We will enjoy free time here to stroll its charming walkways and shops, before we are driven back to our ship for another gourmet four course dinner onboard.

As the sun sets and the riverside lights begin to twinkle, enjoy the views through the restaurant's panoramic windows as we commence our cruise towards Strasbourg, France.
Day 4 July 27th, 2024

STRASBOURG, FRANCE

We arrive in Strasbourg this morning and then after breakfast on board, we enjoy an included guided walking tour of Strasbourg's picturesque 16th-century old town – a maze of narrow streets and canals lined with timber-framed houses and sculptured portals. Unforgettable sights include the stupendous Gothic Notre-Dame Cathedral, multi-towered Ponts Couverts – covered bridges – and the pretty Petite France quarter of pastel-colored former artisans' houses lining the canals. Don't be surprised if you're tempted to linger a while in a typical Alsatian café to sample some of the region's world-famous wines – a crisp Riesling or that particular specialty of Alsace, spicy Gewürztraminer.

We will be returned to our ship and then during lunch, our elegant vessel glides away from our mooring as we commence an afternoon's scenic cruising. Head up to the sun deck and take in the views from the comfort of a sun lounger or retire to the shady comfort of the lounge to chat over a coffee with newly made friends.

As evening falls, thoughts turn to what might be on the menu tonight, so head to the relaxed ambiance of the ship's restaurant as the chef presents another delicious meal.

Tonight we will enjoy a special show featuring the musical wonders of a strings instruments performance in the piano bar onboard. Retire to the bar as we arrive in the town of Speyer later tonight.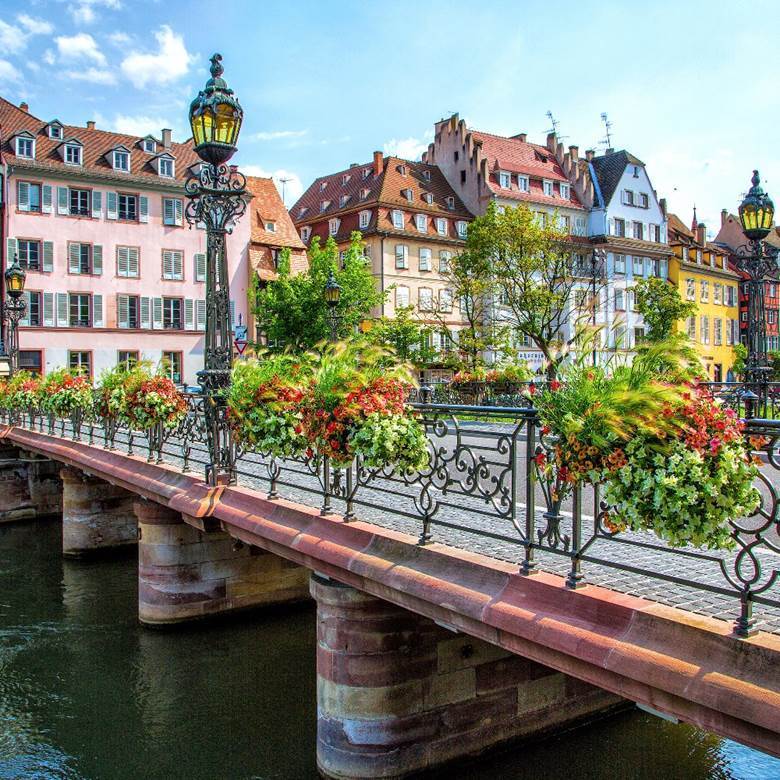 Day 5 . July 28th, 2024

Speyer, Germany

We remain moored in Speyer this morning to enjoy an included guided walking tour of this delightful medieval gem, founded by the Celts and one of Germany's oldest cities, celebrated for its illustrious past. The breathtaking Imperial Cathedral, a UNESCO World Heritage Site, is among the largest Romanesque churches in the world and also one of the finest. The beautiful four-roomed crypt, with its striking marble floors and pastel-colored pillars, is the resting place of many Holy Roman emperors and German kings. Another landmark is the magnificent neo-Gothic Gedächtniskirche, built to commemorate the 1529 'Protestation at Speyer', a significant event when a group of Martin Luther's followers protested his imperial ban. Henceforth, Luther's religious followers were known as Protestants.

Returning on board for lunch, we commence our cruise once again, so sit back and watch the idyllic scenery slipping past through the panoramic windows: rolling hills and fertile vineyards, home to the Liebfraumilch wines of the region, oxbow lakes, long deserted by the river flow and now havens for bird and wildlife.

During dinner this evening our vessel arrives in the classic Rhine wine village of Rüdesheim, in which we will remain docked overnight, so after dinner onboard, you might fancy wandering ashore to enjoy perhaps a glass of Asbach, the famous brandy distilled locally.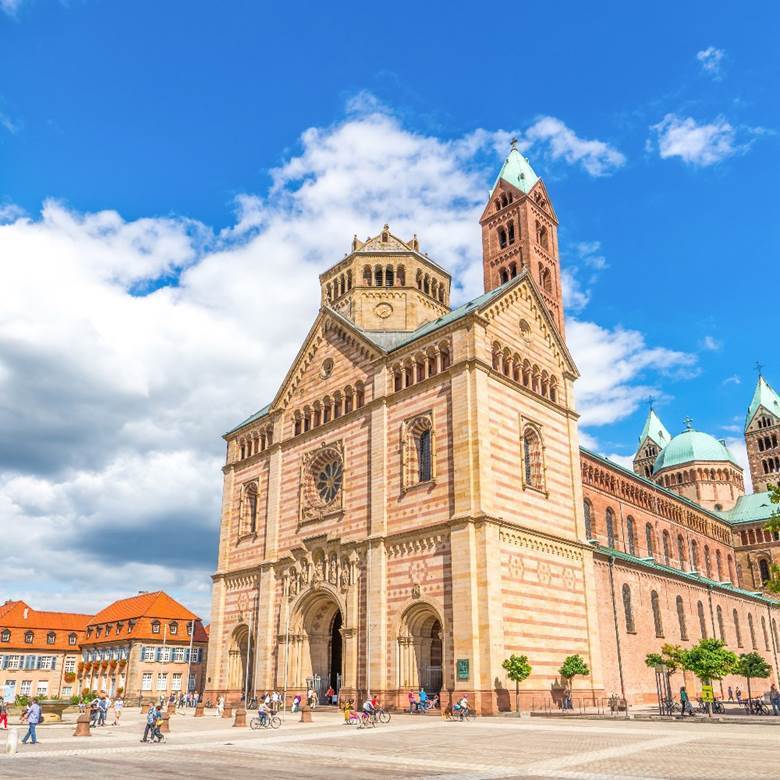 Day 6, July 29th, 2024

RHINE GORGE & RÜDESHEIM

This morning we remain moored in Rüdesheim, a classic Rhine wine village with crooked houses sloping down from wooded hillsides and terraced vineyards. During this morning's delightful guided walking tour, witness the bustling marketplace, the half-timbered Klunkhardshof and Bromserburg Castle, which dates from 1275.

After lunch onboard the ship, this afternoon we will witness a real highlight of the cruise, the dramatic Rhine Gorge:
steep vineyards give way to almost vertical rocky outcrops and soaring cliffs, towering over 1,000 feet above the sweeping valley sides.

Sailing past Saint Goar and the many ruined castles, you get a real sense of the myths of this historic river coming alive around you. No legend is more famous than that surrounding the Loreley Rock, where beautiful nymphs distracted hapless sailors, luring them to their deaths in the treacherous waters.

Relax on the sun deck as our captain skillfully navigates the ship through the huge looping bend at Boppard – one of the most impressive on the river. Keep an eye out for the mighty Marksburg Castle too, an impressive fortress dating back to the 13th century.

It's not long before we arrive in picturesque Koblenz; late this afternoon. Founded by the Romans, the city is beautifully located at the confluence of the Rhine and its sister, the Moselle. On arrival, we will enjoy an included guided walking tour to discover Koblenz's maze of medieval buildings in the Altstadt – old town – which is studded with a fine array of traditional shops and classic Rhineland cafés.

On our guided tour of this delightful town, historic buildings appear seemingly at every turn: See the former mint, the Four Towers with their ornamental 17th-century turrets and several fascinating squares and churches, including the 9th-century Basilica of Saint Kastor.

The waterfront along the Moselle is stunning too, with the medieval Balduin Bridge, staggeringly still in use. If you managed to resist the tempting cakes on offer from the beckoning pavement cafés, then you'll be ready for your meticulously prepared dinner on board and afterward, perhaps a quiet stroll along the riverside promenade to the Deutsches Eck – German Corner – where the great rivers Rhine and the Moselle meet.

Tonight, after dinner onboard the ship, we will enjoy a classical folklore show in the ship's piano bar.

Our ship remains in Koblenz overnight, so feel free to explore its nighttime highlights if you wish and return at your leisure.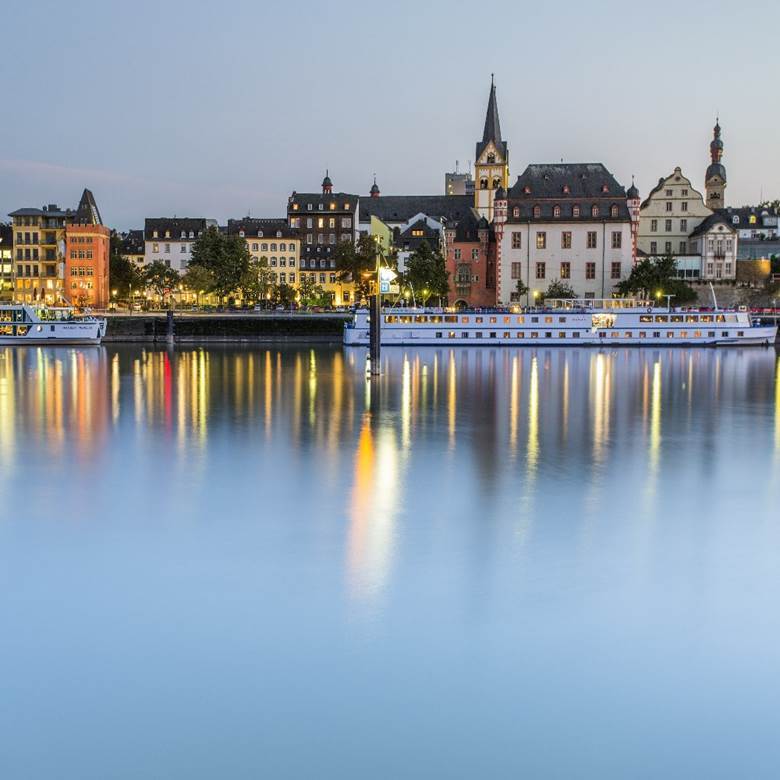 Day 7, July 30th, 2024

COLOGNE, GERMANY

Early risers will witness our departure from Koblenz as we set sail towards Cologne. Enjoy a leisurely morning on board as we drift through this lovely Rhineland scenery, past quaint riverside towns with pretty waterfronts and carefully tended vineyards. See the famous ruined bridge at Remagen, which was captured intact by the Allies towards the end of the Second World War, allowing thousands of troops to cross into Germany's heartland and the forested Siebengebirge – Seven Mountains – a cluster of ancient volcanic hills that inspired many of the Brothers Grimm's legends, including Snow White. During lunch onboard, we arrive in historic Cologne, where you have a free afternoon and evening to explore the city at your own leisure.

Perhaps visit the superb cathedral, the largest Gothic structure on earth. It has Europe's most stunningly intricate stained glass, which took 600 years to finish and when work was finally complete, it was the largest building on earth, remaining so until eclipsed by the Eiffel Tower.

You may also wish to wander in the vibrant and attractive old town, beautifully restored and boasting a plethora of excellent shopping and cozy bars, some of which still traditionally brew their own beer.

This evening, the Captain's Finale Dinner will take place on board, serving delicious specialties of the countries and regions we visit during our cruise, as you reflect on the spectacular sights seen and wonderful places visited whilst traveling with us on this magical cruise.

We remain docked in Cologne overnight, so if you wish to explore cologne by night, you can do so at your leisure tonight and return to the ship when you wish.
Day 8, July 31st, 2024

DISEMBARK IN COLOGNE

This morning after breakfast, the crew bids you farewell before you disembark the ship.

Passengers choosing not to take our optional 3 night post cruise visit to enjoy the spa, casino and Black Forest town of Baden Baden will head to the airport for your flights home. The Dusseldorf International Airport is approx. 40 minutes away.

ABOUT OUR CRUISE SHIP

The M.S. Oscar Wilde of Riviera River Cruises.

Riviera specializes in only river boat cruises. They are experts in knowing and operating incredible itineraries on the world's grandest rivers.
Riviera has been delighting customers for 36 years and has been consistently recognized for exceptional customer service and first-class products. They were awarded Travel Weekly's 2018 and 2019 Magellan Awards for overall river cruising.

The M.S, Oscar Wilde was built in 2017, making it a very modern ship compared to many cruise lines.

After years of painstaking research to create the most perfect vessels afloat, a new era in river cruising dawned as Riviera introduced their brand new, state of the art, 'all suite' ships.


Swiss operated and truly world-class, we are absolutely delighted to present the five-star MS Oscar Wilde.


It is extremely difficult to convey just how extraordinary this outstanding ship really is and exactly what distinguishes it from similar vessels. It would be very easy to just say 'luxurious' but it's much more than that. They have deliberately avoided the current trend for a minimalist style where you could be anywhere in the world, creating instead a unique yet exquisite blend of understated taste, style and elegance at the highest level. Immediately striking is just how exceptionally spacious this new vessel is as you enter a gleaming, richly colored marble-floored lobby flooded with natural light from a stunning atrium above. Moving inside, exceptional creativity from Europe's finest design studio has produced a superbly balanced masterpiece of onboard style, utilizing sustainable rich hardwoods, gleaming brass and polished copper, sparkling glass and intricate wrought iron. The ship is beautifully illuminated throughout – including the exterior and imaginatively furnished with harmonious color schemes, all designed to create the serene atmosphere reflective of the golden age of cruising which time after time you tell us you adore.


The restaurant rivals the finest on shore establishments taking fine dining to another level complemented by delicate European porcelain, gleaming glassware and the intuitive service in which the Swiss excel.


Furthermore your suite will easily exceed your expectations, for not only will you enjoy the most discerning décor, so too the ship's dimensions afford you both space and comfort - a minimum 17 square meters (183 square feet), with upgrades available to 'Superior' and 'Deluxe' accommodations.
Above these is the magnificent Sun Deck - unique and illustrating yet again our considered depth of design, a second staircase mid ship affords convenient Sun Deck access. Head on up to this truly spectacular deck and what could be better than watching life ashore glide by from the comfort of a sun lounger, perhaps under shade if you wish.


There's always the refreshing splash pool too or why not try your hand on the putting green. Then take a refreshingly long drink and that book you've been meaning to read for ages on to the lovely terrace area at the fore of the ship, located right in front of the wheelhouse where you can view the Captain and his team skillfully navigating the twisting river and enjoy truly 'driving seat' views. Take a deep breath and relax into the pace of river cruise life – now you're really on holiday!


The Diamond Deck is where you will find the very heart of the ship - the superb panoramic observation lounge and bar; a lounge in every sense of the word, complete with plenty of comfortable leather armchairs and sumptuous sofas where you can sink into warmly colorful cushions in beautiful quality fabrics with a freshly made cup of tea. A thick wool carpet feels lovely underfoot and the tasteful contemporary lighting above creates a welcoming and refined ambience, further complemented by the discreet and intuitive service resplendent of the finest five-star hotels. So just sit back with your favorite cocktail and take in the truly mesmerizing view. After a superb dinner in the restaurant perhaps it's time for a drink accompanied by the soothing tones of the ship's pianist in the piano bar.


To the aft is the peaceful Bistro with its open kitchen and terrace – another perfect spot to appreciate the ever-changing scenery gliding by while chatting with new found solo friends on this solo traveler only cruise. In the evenings, the chef presents his personal signature dishes to a small number of diners with menus varying according to the seasons. This intimate specialty dining experience can be reserved on board at no extra charge.


When the weather allows, the panoramic windows may be fully opened on to the terrace to allow a delightful al fresco dining experience. The ship's restaurant is located on the Ruby (middle) Deck and here you will experience not only exceptional first class cuisine, but also the most attentive yet discreet service from the ship's highly professional crew. So just sit back with a well-deserved glass of wine from the carefully selected wine list and delight in the wonderful elegance of your surroundings; beautifully laid tables of just 4 or 6 guests, crisp linen, deep wool carpets and warm wood paneling abound to offer a delectable dining experience of the highest order.


On the Emerald (lower) Deck is the fitness center, perfect for working off all those delicious meals or for something less strenuous, treat yourself to a relaxing massage. So you will always look your best, there is a hairdresser too, which also offers manicure and pedicure treatments. Simply put, these world-class ships, elegant and refined in the truest sense, take the idea of river cruising to another level.


Facilities onboard our ship
Thoroughly air conditioned public areas and individual temperature controls in all cabins
Stunning restaurant on the Main Deck serving buffet breakfast, buffet lunch and four-course dinner
Lounge and bar to enjoy cocktails and the early risers' breakfast
Elevator between Emerald, Ruby and Diamond decks
Laundry Service
Spa and wellness area featuring Nail Salon and Hairdressing Service
Boutique gift shop for your holiday souvenirs
Reception area open 24hrs
Small splash pool and putting green on the Sun Deck
24hr self service station for complimentary tea & coffee
Accommodations:

Choose your desired suite type;

* Emerald Deck suites have a river view with a fixed window

* Ruby Deck and Diamond suites have a panoramic French Balcony to enjoy the fresh air and uninterrupted panoramic views

A gleaming wood door opens revealing your exceptionally appointed suite. At 17 square meters (183 square feet), its generous dimensions are amongst the largest you will find on a cruiser gracing any European river. Imaginatively designed and appointed to the highest specification, with all the luxury you would expect to find in a smart 'boutique style' hotel, your comfort definitely won't be compromised on any level!


The gleaming marble bathroom features a powerful fully glazed shower with a large 'rain shower' head, superbly refreshing after a day's sightseeing. Clever design allows for ample space, and contemporary lighting, complimentary cosmetics by 'Crabtree and Evelyn' and fluffy towels, makes preparing for the day ahead an absolute pleasure.
The chic styling of a talented designer's eye extends to the entire suite with generous use of hand-crafted tropical hardwoods blended with premium fittings, discreet thoughtful lighting and a color scheme of calming neutral tones, creating an ambience to put you in the most relaxed frame of mind from the very first minute! A full size bed assures a good night's rest in crisp cotton linen of the finest quality - a turndown service each evening adds the finishing touch..


You will enjoy a particularly generous seating area with two chairs and a table, enabling you to unwind in comfort in the privacy of your own suite while a camera on the ship's bow conveys live images of the ship's progress to your flat screen TV, ensuring you won't miss a thing, even when in the comfort of your own cabin. Careful consideration has been given to the tiniest details with individually controlled air-conditioning so you set the temperature that you desire, a hairdryer, safe, minibar, telephone and the convenience of tea (our meticulous planning even extends to familiar teabags!) and coffee making facilities ensure a familiar home from home experience.


Suites on the Diamond (upper) and Ruby (middle) Decks have 'French Balconies' – panoramic floor to ceiling sliding glass doors bringing riverside life just that little closer!


YOUR SOLO TRAVELERS ONLY RHINE RIVER CRUISE July 24-31,2024 INCLUDES:
7 NIGHTS ON THE M.S. OSCAR WILDE OF RIVIERA RIVER CRUISES WITH ALL MEALS DAILY
DAILY SHORE EXCURSIONS, BY BUS, TRAIN AND WALKING, PROFESSIONALLY LED BY AN EXPERIENCED RIVIERA RIVER CRUISES TOUR GUIDE
UNLIMITED WIFI ON THE SHIP
ALL TAXES
FREE SUPERIOR DRINKS PACKAGE INCLUDES UNLIMITED
ALCOHOLIC AND NON ALCOHOLIC DRINKS ANYWHERE ON THE SHIP ANY TIME ON THE SHIP
The Entire ship is Solo Travelers,
and everyone receives a free single supplement
Cabin Category Choices:

Emerald Deck Suites (172 square feet) with fixed window for scenic river views: $4099 – WITH FREE SINGLE SUPPLEMENT

Ruby Deck suites (183 square feet) with a French Balcony and sliding glass panoramic doors to enjoy the fresh air uninterrupted panoramic river views: $4949…WITH FREE SINGLE SUPPLEMENT

BOOK A RUBY DECK CABIN BY NOV. 22ND AND THE CRUISE LINE WILL GIVE YOU $500 OFF!!
PAYMENTS:

A Cruise deposit of $600 is due within 7 days of booking your space on this singles only cruise and tour.


The Balance payment is due Monday April 15th
Cancelation policy for this trip:
If you cancel before making your balance payment, the cruise line will keep your $600 deposit as a cancel penalty unless you provide a replacement passenger to take your place.

If you cancel after making your balance payment, but before 90 days prior to the cruise, the cruise line will keep 50 percent of your total cruise cost paid, unless you find a replacement passenger to go in your place.

If you cancel 90 days or less before the cruise, the cruise line will keep your full cruise cost paid.