Cruise of the Duoro, Porto and Salamenca River
of Portugal and Spain
Whole ship singles
No single occupancy supplement
April 2-9,2024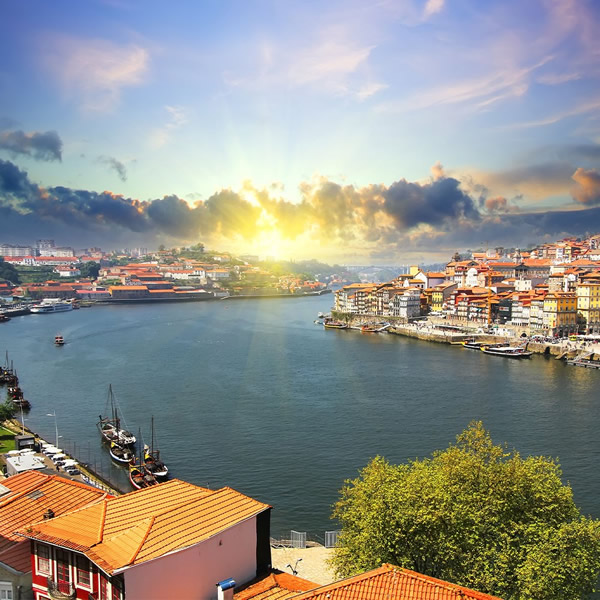 The charming town of Porto along the scenic Duoro River in Portugal
Join us for another special river cruise sailing, on which the entire ship is solo travelers and everyone gets their own cabin on the ship with
NO SINGLE SUPPLEMENT!
After our popular solo traveler only cruises in 2022 and in 2023, this one will surely be popular too, so book early to get your space.
Cruise Overview
Commencing in the Roman city of Porto, the home of Port wine, Portugal's once wild river Douro has been tamed by locks into resembling a series of finger lakes, adding greatly to the valley's ambience. Leaving behind the Atlantic influenced greenery of the coast you are soon immersed in a Mediterranean land of olives, vines, and picturesque, medieval hilltop villages. Our destination is the higher reaches of the valley from where we visit Salamanca - home of one of Europe's oldest universities, two of its finest cathedrals, Spain's finest city square and even the Inquisition! You will adore the away-from-it-all experience and visit some of Iberia's most beautiful medieval towns, monasteries and vineyards, and feel you have been away for months!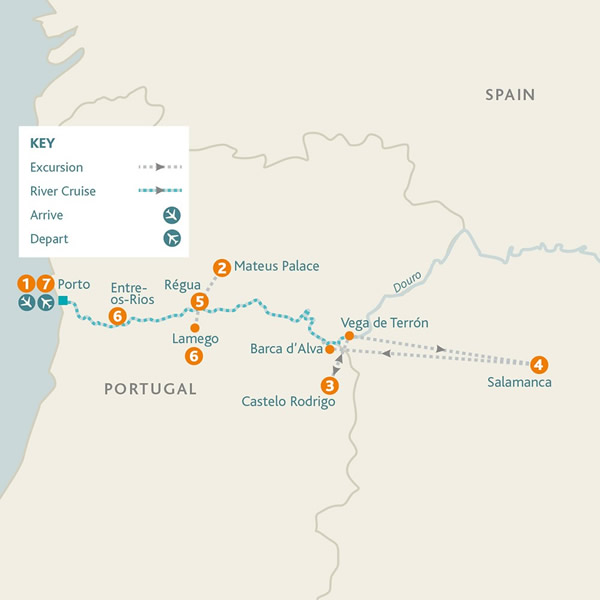 Day 1 April 2nd, 2024
EMBARK IN PORTO
Embark the ship in Porto and familiarize yourself with your five-star floating hotel. From the moment you board, the welcoming crew are at your service. In no time you'll be settled into your luxurious, thoughtfully furnished accommodation and familiarizing yourself with all the first-class aspects of this floating boutique hotel.
Day 2 April 3rd, 2024

MATEUS PALACE/PINHÃO

As dawn breaks over Porto the adventure begins as our elegant vessel commences her stately passage upstream. Your first delicious breakfast is served by the attentive crew and whilst you linger over another coffee, you can really start to unwind as we leave the city skyline far behind. Head up on deck to appreciate the changing landscape in all its splendor as the river weaves its way between the lush hillsides; from the first morning on board, it's very apparent that the Douro is one of Europe's most photogenic river valleys and the topography has prevented the building of extensive riverside roads.
After another superb lunch on board, we cruise into the small town of Peso da Régua, from where we visit the grounds of the splendid Mateus Palace. Anyone familiar with Mateus Rosé and its characteristic 'squashed' bottle will recognize the palace from the label. Whatever your opinion of the wine, it is an impressive 18th-century Baroque edifice, mirrored in its stunning pond, surrounded by landscaped French gardens. This evening we take the short drive to the 126-acre Quinta da Pacheca for dinner. Enjoying dramatic views over the Douro, it dates back to the 18th-century and is simply one of the most beautiful and distinguished properties in the region. It is also notable as being the first quinta – in 1738 – to bottle wine under the name of its owner, the aristocrat Mariana Pacheco Pereira. You have time to wander through part of the estate.
Tonight, as you enter the restaurant for the Welcome Dinner, feel free to choose your table. Later we will see a celebratory vintage port wine opened in the traditional way. We are moored in Pinhao overnight. (B, L, D)

MATEUS PALACE
Day 3 April 4th, 2024
CASTELO RODRIGO
As dawn breaks, early risers can witness the ship's graceful departure. Relax over a leisurely breakfast whilst the ever-changing scenery idly slips by through the restaurant's superb panoramic windows.
The Douro was once a wild river, notoriously challenging to navigate, especially for the traditional flat-bottomed boats, which often foundered in its waters. Today it has been tamed by a system of dams and locks, which have raised the water level to produce a topography reminiscent of Scotland's lochs that enhances the valley's charm. As we cruise into ever more rural territory towards the Spanish border, the river here is at its most peaceful. It's the perfect time to take a refreshing dip in the Sun Deck pool – a rare treat on a cruise ship – or catch up on some reading, perhaps with a cool pre-lunch glass of vinho verde, the local, gently fizzy white wine. Portuguese wine is simply outstanding but production is low, so the best is rarely exported. Our on-board wine list includes some excellent regional wines and the friendly and attentive restaurant staff will gladly guide you through them. Do experiment a little and you'll be greatly rewarded.
This afternoon we visit Castelo Rodrigo, a delightful 12th-century walled village tucked away in the picturesque highland ranges bordering Spain. Its church was a resting place on the pilgrimage route to Santiago de Compostela and it is said that Saint Francis himself stayed here. The views are simply stupendous, stretching across almost-deserted ochre hillsides.
This evening after dinner we will see a celebratory vintage port wine opened in the traditional way, then head up on to the sun deck to listen to the unmistakable sound of crickets and breathe in
the scents from the surrounding valley slopes that pervade the warm evening air.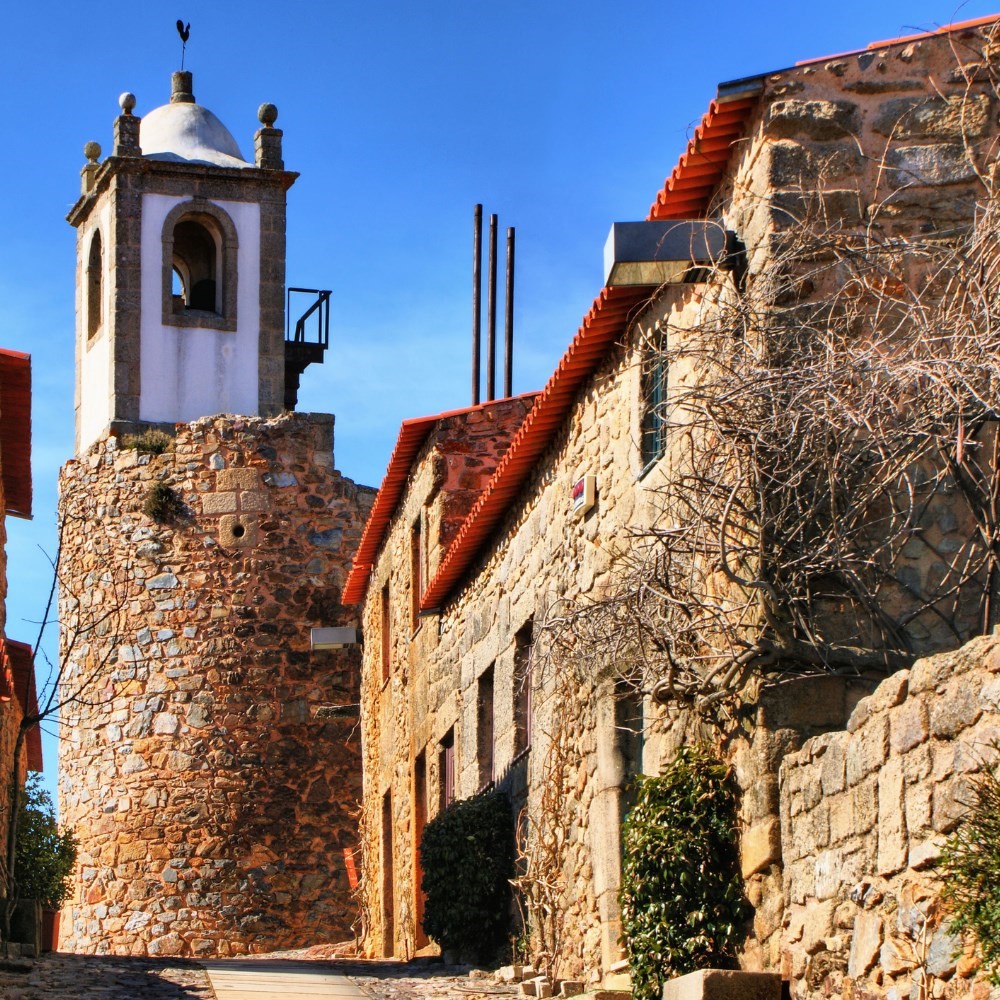 CASTELO RODRIGO
Day 4 April 5th, 2024

SALAMANCA
Today we visit historic Salamanca, one of the many UNESCO World Heritage Sites on this journey, regarded by many Spaniards as their nation's most beautiful city. Founded by the Romans, who erected its 389-yard-long bridge, Salamanca is mostly built from local sandstone that emanates a gorgeous rose-colored glow in the sunlight. Perched on a hill on a bend in the serene River Tormes, the city is a picture of tranquility but its history is turbulent, having been successively fought over by Hannibal, the Moors, then the Duke of Wellington and Napoleon.
Salamanca is dominated by its two cathedrals and its university. Founded in 1218, the university is the oldest in Spain and was one of the civilized world's most important seats of study for over 400 years. The Spanish Inquisition's records are still kept here, and as early as the 16th century it boasted some 12,000 students.
Seeing its immaculately preserved lecture halls with their vaulted ceilings, it's easy to conjure an image of Christopher Columbus addressing the learned men of the day or legal experts constructing the international laws that originate here. On arrival in Salamanca you are free to explore as you wish. You may choose to linger, admiring the ornate interiors of its cathedrals – the more recent dates from the 16th-century – or explore its tiny streets, medieval squares, traditional shops, gardens and marketplaces.
The main square, the Plaza Mayor, was built in the 18th-century in Spanish Baroque style with colonnaded walkways all around at ground level, ideal for finding a shaded spot to sit and watch the locals pass by. Over lunch you enjoy a traditional flamenco show. This afternoon we enjoy a guided tour of the city seeing the main sights. (B,L,D)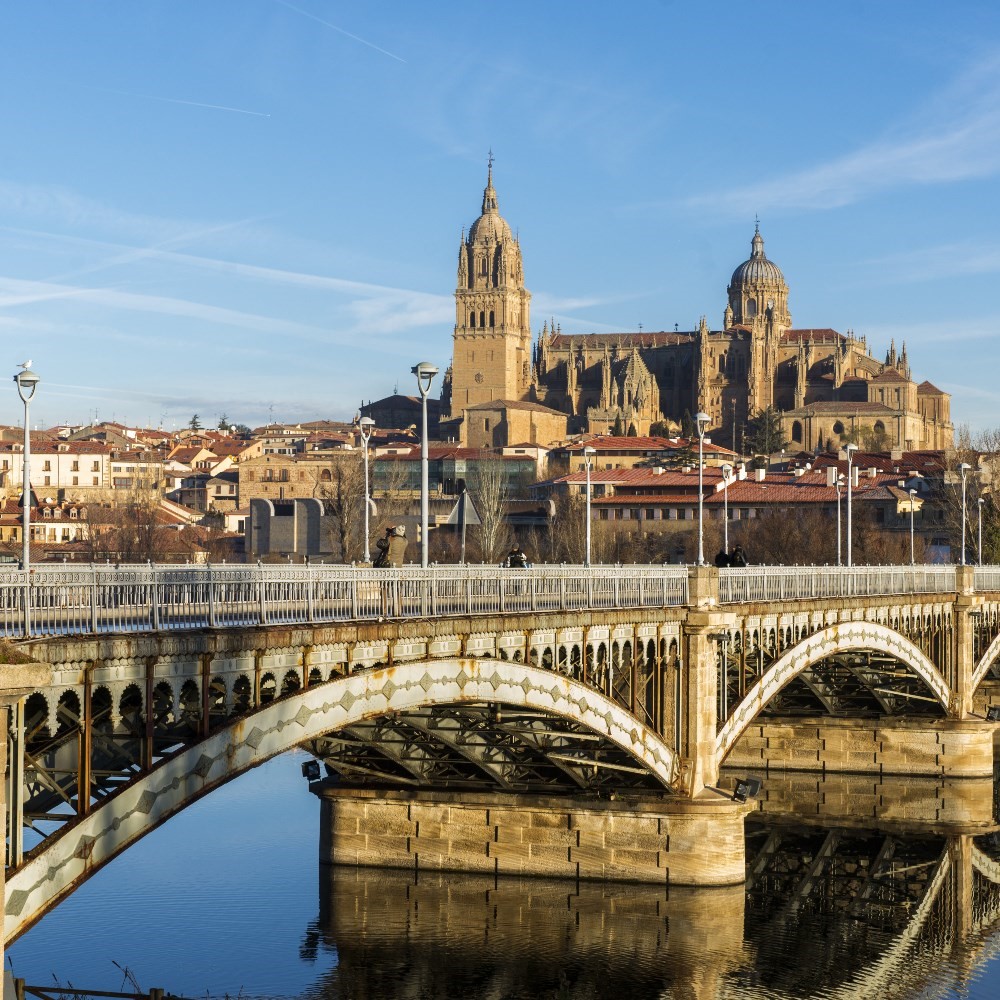 SALAMENCA
Day 5 April 6th, 2024
PESO DA RÉGUA
One of the benefits of life aboard a river cruise is the sheer sense of relaxation it brings; our elegant ship slips its moorings during breakfast, after which there is plenty of time for a spot of pampering in the on-board spa, or simply watch the seamless changing of the riverbank scenery passing by from the comfort of a cozy seat in the lounge. We're in port wine territory, where the lush hillsides have largely given way to a patterned landscape of terraced vineyards. Inland from the Atlantic, the climate has changed, too; it's noticeably warmer and drier, while the area has a Mediterranean appearance with orangey, earthy colors replacing verdant greens.

We arrive later in the pretty little town of Peso da Régua. We enjoy a visit to a local historic quinta to learn all about the stages of wine production, from the planting of the vines, harvesting, the wine-making process and finally tasting and labeling. No visit would be complete without sampling some of their excellent produce of course, so we enjoy a tasting before returning to the ship. (B, L, D)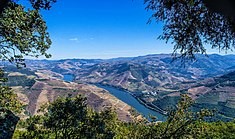 Peso da Régua
Day 6 April 7th, 2024
LAMEGO
This morning after breakfast we take a short drive to historic Lamego, home of Portugal's sparkling wine, Raposeira, and one of the first places to be reclaimed from the Moors in the 12th century. Situated atop the hill overlooking this lovely town is the ancient Sanctuary of Our Lady of Remedies church, its stairways adorned with attractive azulejos, the country's characteristic painted ceramic tiles.
By the time we return to our ship, our chef and his team will be adding the finishing touches to another delicious lunch, ready to be served as we depart for Entre-os-Rios. After lunch there's the perfect opportunity to take to the sun deck to enjoy the kaleidoscope of Douro views – or perhaps a spot of reading in the lounge over a cup of tea. This evening is the Captain's Dinner, a truly memorable experience featuring exquisite regional specialties, followed by a colorful performance of traditional Portuguese folk music by a local cultural group.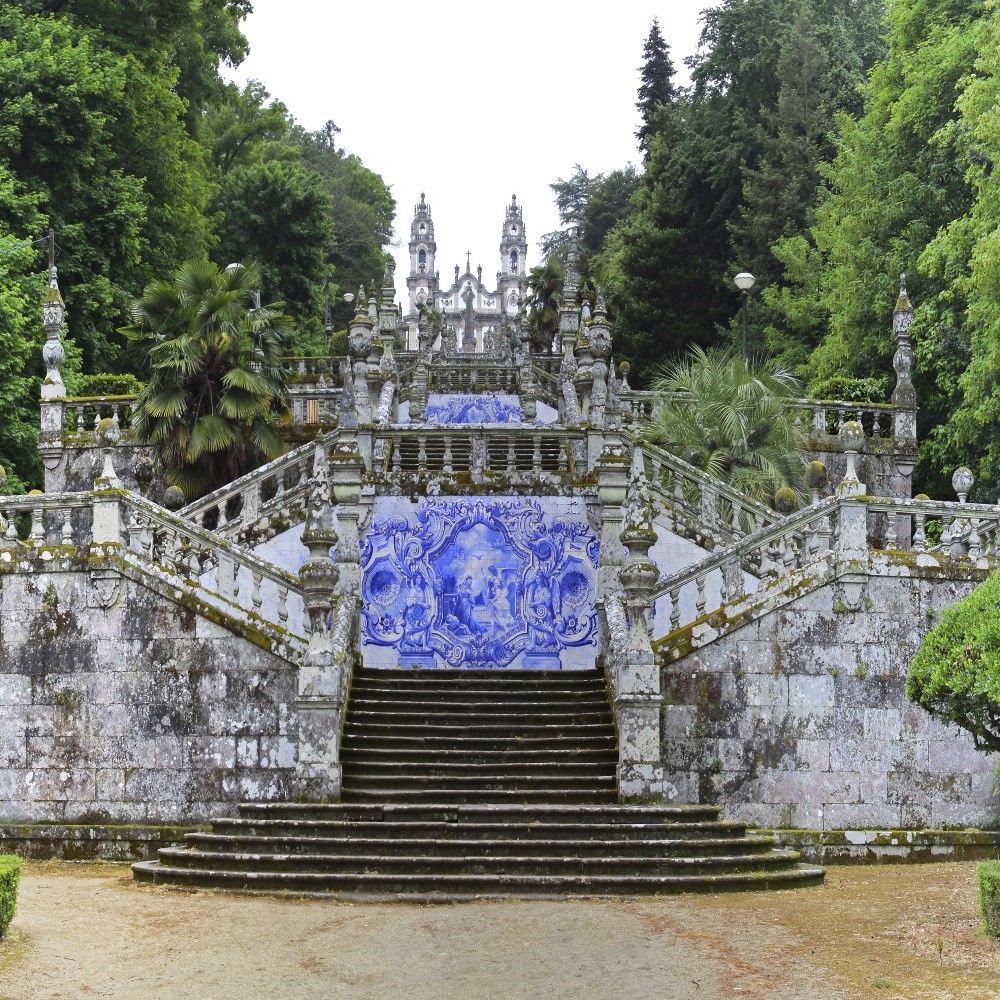 Stairway to the Sanctuary of Our Lady of Remedies church
Day 7 April 8th, 2024
PORTO
There's a perfect opportunity to avail yourself of some of the ship's range of five-star facilities this morning – maybe a little gentle exercise in the fitness room before heading up to the sun deck to enjoy a coffee whilst chatting with newly-made friends as our ship makes a graceful arrival in Porto once more, passing under the city's spectacular bridges. Porto is of course synonymous with wonderful port wine and all the famous port producers are here, such as Cálem, Sandeman and Ferreira, so a visit here would not be complete without a tour of one of them. You'll learn about this fortified wine's fascinating history and its close British connections. Port is made from grapes still pressed in the traditional way – by feet – then lovingly matured, sometimes for decades, before you can enjoy its subtle flavors. Of course, you'll get the chance to sample various port styles at the end of our visit.
After lunch on board we enjoy a guided tour of Porto. Strategically overlooking the Douro as it empties into the Atlantic, Portugal's second largest city was originally a Roman town, but its wealth derived from its knowledge of the sea routes to India, with fortunes made from trading spices, silks and other fine goods. Our tour unveils some of its major and more surprising sights.
You'll have the rest of the afternoon to explore the truly fascinating city; so perhaps return to the terraced streets of the old town and wander the sloping maze of winding, cobbled alleyways, soaking up the atmosphere whilst stopping to admire the lovely architecture, soaring bell towers, fine baroque churches, golden rooftops and beautiful tiles of this slice of traditional Portugal. Stop for a drink in a cozy café and be tempted by an array of delicious cakes and pastries – perhaps sample a pastel de nata, the traditional Portuguese custard tart.
This evening, enjoy a final dinner on board expertly served by our restaurant staff under the supervision of the maître d'. Afterwards, perhaps settle into the lounge to chat into the evening and reflect on the splendors of the remarkable River Douro – over a glass of port, of course.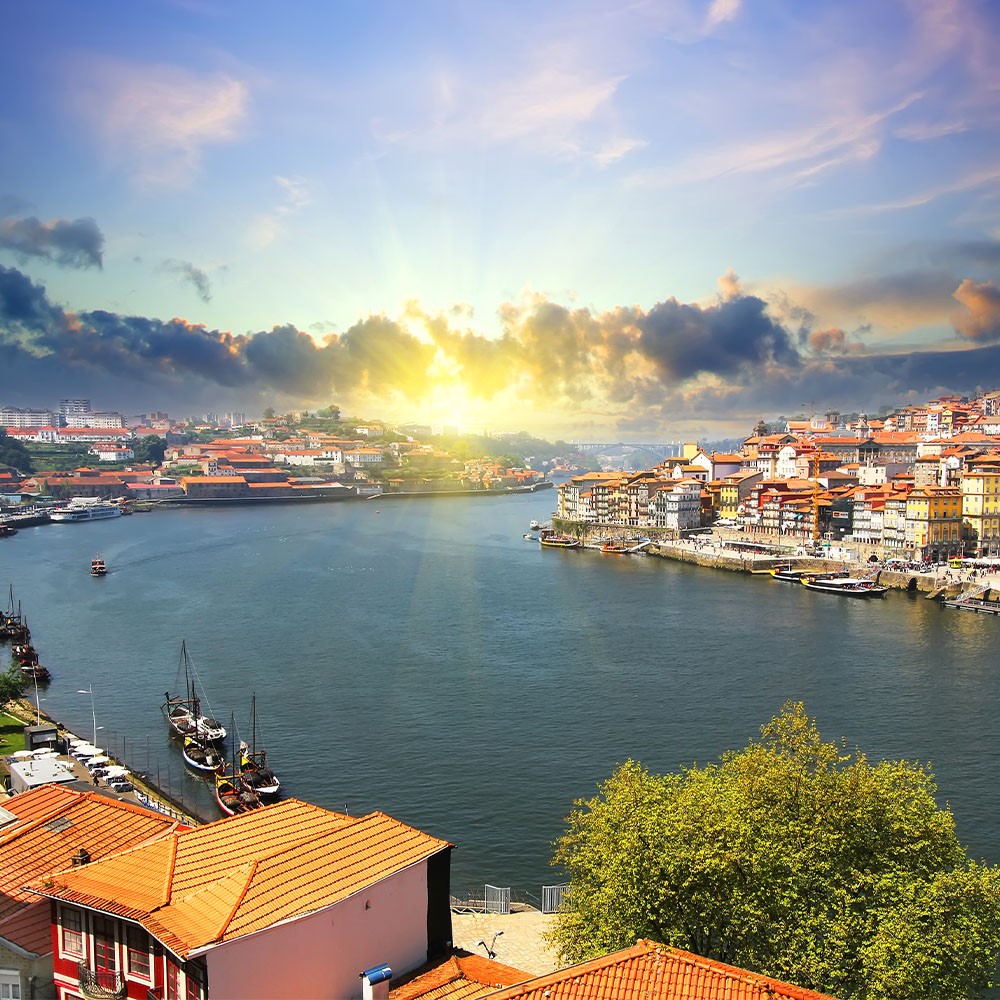 PORTO
Day 8 April 9th, 2024
DISEMBARK IN PORTO

This morning, the crew bids you farewell before you disembark with memories of one of the most unspoiled corners of Europe.
YOUR CRUISE INCLUDES
Seven nights on board in SINGLE OCCUPUPANCY WITH NO SINGLE SUPPLEMENT
Eight guided visits and tours including a full-day excursion to Salamanca with a walking tour; lunch and a flamenco show; a guided tour of Porto with a wine-tasting; tasting at a typical Portuguese quinta; and visits to Castelo Rodrigo, Mateus Palace gardens and Lamego
Traditional Portuguese folk music show
All meals on board from dinner on your day of arrival through to breakfast on your day of departure, including welcome cocktails, a welcome dinner and the Captain's Dinner
Five-star service from an English-speaking crew and knowledgeable local guides
Complimentary on-board tea and coffee
Complimentary on-board Wi-Fi
Services of a Riviera River Cruises cruise director
ABOUT OUR SHIP – THE MS DUORO ELEGANCE
We are absolutely thrilled to announce that our highly successful Douro cruise on Portugal's most spectacular waterway will be operated on a state of the art vessel, the magnificent five-star MS Douro Elegance. Painstaking research over many months with our highly regarded Portuguese shipping partners, the first luxury ship operator on the Douro, who have been involved in river cruise ship building for over a quarter of a century, has resulted in the creation of a world class vessel which is without doubt one of the most exceptional ships afloat on any European river.
If cruising is an art, then this ship has truly mastered it; constructed with the very latest technology and a strong environmental ethic in mind, yet simultaneously retaining a classic, refined elegance reminiscent of cruising from a bygone era, this five-star, fully-air-conditioned river cruiser has been purpose-built to fit the unique size limitations of the Douro's five locks and features all the facilities you would expect in a top-class hotel and more so your cruise will be as relaxing as possible and your stay on board will be a uniquely memorable one.
Accommodating just 126 guests in the most exquisite of surroundings, the ship's spectacular design and high specification ensures this vessel feels exceptionally light and airy. The generous ratio of 3:1 guests per crew member ensures a first-class personal service plus the friendly 'small ship' feel so beloved of Riviera Travel cruise aficionados, enables the ever attentive crew to revel in taking care of all those little things – leaving you to simply sit back, relax and enjoy every minute of your sensational river cruise experience.
Facilities
Stunning restaurant on the Main Deck serving buffet breakfast, buffet lunch and four-course dinner
Magnificent lounge and bar (where early risers' breakfast is served)
Elevator from Lower to Upper Deck
Laundry Service
Spa and wellness area featuring a fitness room for those of you who like to enjoy a work-out to kick-start your day
Boutique gift shop for your vacation souvenirs
Reception area open 24hrs
Outdoor swimming pool located on the Sun Deck
Thoroughly air conditioned public areas and individual heating controls in the cabins
Tea and coffee making facilities in every cabin and suite

Boarding via the welcoming entrance lobby on the Upper Deck, immediately you will be struck by the crisp, contemporary yet classically stylish décor befitting this five-star ship; its discreet lighting, sparkling surfaces and highly polished marble floors create a sophisticated, designer elegance which is reflected throughout the entire ship. Conveniently located alongside the entrance lobby is the reception desk where the helpful friendly crew are on hand to welcome you aboard.
Complimentary tea and coffee is always available here too and there is a small boutique stocking a selection of essentials and souvenirs. Then forward you will find the magnificent lounge and bar, the very heart of the ship, styled by a leading Portuguese designer and sumptuously furnished with elegant settees and comfortable armchairs; plump cushions in smart complementary fabric invite you to sink in and relax – your vacation starts here! Enjoy a freshly made cup of tea whilst soaking up the refined ambience, complemented by high quality fittings, thoughtfully positioned lamps, a thick wool carpet, beautifully polished hardwoods and fabulous fresh-cut flowers.
A well-stocked bar with friendly professional staff taking delight in attending to your every wish in sampling local wines or preparing whatever takes your fancy completes the convivial scene. So just sit back and enjoy the stunning view from the magnificent panoramic windows as the ever-changing river scenery slips effortlessly by. When evening falls, the subdued lighting creates the most gentile ambience so unwind over a drink or perhaps take a turn on the dance floor to the soothing tones of the resident musician. There really can be few vacations quite as relaxing as this! All three air-conditioned accommodation decks are connected by an elevator for your convenience and an elegant wide staircase with gleaming handrail.
Heading down to the Main (middle) Deck you will find the chic restaurant where your comfort is assured in high-backed chairs at impeccably laid tables with pristine linen cloths and fine cutlery. Tables seat just four to eight and in common with all our river cruises, we offer 'open dining' arrangements giving our clients the freedom to sit wherever and with whoever they wish. This is a dining experience of the highest order and one to be savored! Breakfast is a hot and cold buffet with a fine omelet station so your eggs are just how you like them – an early risers' breakfast is also available in the lounge. Lunch is another deliciously fine array but if you fancy a simple salad instead then that's available too or you may opt for a slightly more informal, lighter lunch either in the main lounge or up on the Sun Deck. The culinary highlight of the day though is the superb four-course dinner, served at your table by the most highly trained, attentive yet discreet waiting staff who will attend to your every need without hesitation. Featuring the finest Portuguese, Mediterranean and International cuisine to delight your taste buds this will be a dining experience to remember as you enjoy a kaleidoscope of river views from the huge panoramic windows. If you feel like a little extra indulgence during your cruise why not book in for a special treatment in the ship's Spa which is also accessed on the Main (middle) Deck. Or for something a little more energetic, you will find a small fitness room on the Lower Deck – ideal for working off the ship's wonderful cuisine!
Accessed by stairs from the Upper Deck, head on up to the magnificent and spacious Sun Deck from where you can enjoy the stunning 360 degree views as they glide past from the comfort of your sun lounger whilst sipping a long refreshing drink or chatting with your fellow companions. You might choose to enjoy a glimpse of the wizardry 'on the bridge' as the Captain skillfully negotiates the twisting river with reassuring ease. When the temperature rises you will feel the benefit of the fantastic outdoor swimming pool – a rarity on a river cruiser. For many though, just to lean against the ship's rail and breathe in the invigorating river breeze whilst casting a relaxed eye over the fascinating scenes of life ashore or the wonderful river wildlife all around you, is what it's all about; this is surely the perfect antidote to the stresses of modern life so let us take you on the cruise of your dreams!
Cabins on this ship

All the outside facing cabins on the MS Douro Elegance are finished to an exceptionally high standard with superior quality fittings in the most refined taste and at 151 square feet, these are amongst the largest on any European river cruise. Chic styling is evident throughout from the moment you open your beautifully polished hardwood door and step inside your luxury home for the next 7 nights; polished wooden furniture is complemented by fine fabrics, in warm, relaxing colors, uniquely designed and created for the Ms Douro Elegance whilst 'hotel style' twin beds with individual bedding which can be moved together or separated accordingly, will ensure a good night's sleep in the finest crisp linens.
The sparkling marble bathrooms, beautifully designed, all feature shower with fully glazed screen, WC plus fluffy towels and bathroom cosmetics. The living area has two comfortable chairs and a table plus a small desk. All cabins enjoy the benefit of individually controlled air-conditioning, flat screen high-definition satellite TV, hairdryer, safe, telephone, and tea and coffee making facilities.
The Upper Deck and Main (middle) Deck have full floor to ceiling windows which slide down halfway so you can watch and photograph the stunning river scenery drifting past and feel the fresh air, without leaving the comfort of your cabin!
Standard cabins on the lower deck are slightly smaller (129 square feet), have smaller fixed windows
CRUISE PRICING
$3319 FOR THE LOWER DECK – WITH FREE SINGLE OCCUPANCY SUPPLEMENT – YES THERE IS NO SINGLE SUPP.
$4319 FOR THE MIDDLE DECK WITH FREE SINGLE OCCUPANCY SUPPLEMENT – YES THERE IS NO SINGLE SUPP.
ALL CABIN PRICING INCLUDES
Seven nights on board in SINGLE OCCUPUPANCY WITH NO SINGLE SUPPLEMENT
Eight guided visits and tours including a full-day excursion to Salamanca with a walking tour; lunch and a flamenco show; a guided tour of Porto with a wine-tasting; tasting at a typical Portuguese quinta; and visits to Castelo Rodrigo, Mateus Palace gardens and Lamego
Traditional Portuguese folk music show
All meals on board from dinner on your day of arrival through to breakfast on your day of departure, including welcome cocktails, a welcome dinner and the Captain's Dinner
Five-star service from an English-speaking crew and knowledgeable local guides
Complimentary on-board tea and coffee
Complimentary on-board Wi-Fi
A $400 deposit is required by Riviera River Cruises within 7 days of booking.
The balance is due November 15th.
If you wish to cancel your space on this trip before October 15th, you can email your request to do and we can email Riviera River Cruises the request to allow you to transfer your $400 deposit to another of their Riviera River Cruises in either 2023 or 2024. They usually respond within 7 days of the request.
If you wish to cancel after making your balance payment, they will not offer any refund nor transfer, unless you have someone to take your place on this April 2nd, 2024 cruise.
THIS CRUISE IS ENTIRELY A WHOLE SHIP SINGLES CRUISE AND NO SINGLE OCCUPANCY SUPPLEMENT FOR ANYONE

DON'T MISS YOUR CHANCE TO ENJOY ONE OF EUROPE'S GRAND RIVERS WITH NO SINGLE SUPPLEMENT